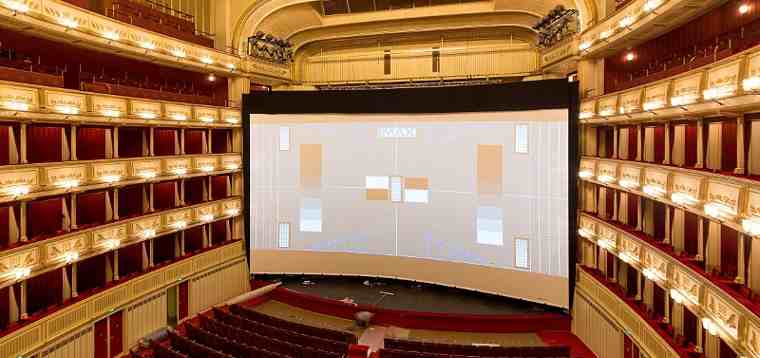 IMAX Corporation, Paramount Pictures, a division of Viacom, Inc., and Skydance announced Wednesday that the fifth installment of the blockbuster franchise, Mission: Impossible – Rogue Nation, will premiere July 23 at the State Opera House in Vienna.
The site is being specially transformed into an IMAX theatre for this one-night global event. The film begins its worldwide roll-out in IMAX theatres on July 31.
For the red-carpet event and screening, the historic Vienna State Opera House is receiving a makeover of IMAX proportions exclusively for this premiere.
During the past three days, IMAX's team has equipped the opera house with an IMAX screen measuring approximately 56 feet by 37 feet, IMAX's proprietary dual-projection system and a custom sound system configured and tuned to optimize the playback of the film's IMAX soundtrack in this unique environment.
This marks the second time IMAX has transformed an iconic venue for a one-night-only global premiere following Paramount's Transformers: Age of Extinction in June 2014.
Attending the world premiere in Vienna is Mission: Impossible – Rogue Nation director Christopher McQuarrie; stars Tom Cruise, Simon Pegg and Rebecca Ferguson; and producers Bryan Burk, David Ellison, Dana Goldberg and Don Granger. Representing IMAX at the premiere event will be CEO Richard L. Gelfond, along with IMAX President EMEA Andrew Cripps.
Mission: Impossible – Rogue Nation
Paramount Pictures and Skydance present a Tom Cruise / Bad Robot Production, "Mission: Impossible – Rogue Nation." With the IMF disbanded and Ethan (Tom Cruise) out in the cold, the team now faces off against a network of highly skilled special agents, the Syndicate.
These highly trained operatives are hellbent on creating a new world order through an escalating series of terrorist attacks. Ethan gathers his team and joins forces with disavowed British agent Ilsa Faust (Rebecca Ferguson), who may or may not be a member of this rogue nation, as the group faces its most impossible mission yet. Starring Tom Cruise, Jeremy Renner, Simon Pegg, Rebecca Ferguson, Ving Rhames, Sean Harris and Alec Baldwin.
The film is directed by Christopher McQuarrie, with a screenplay by Christopher McQuarrie and story by Christopher McQuarrie and Drew Pearce. Based on the television series created by Bruce Geller. Produced by Tom Cruise, J.J. Abrams, Bryan Burk, David Ellison, Dana Goldberg and Don Granger. Jake Myers is an executive producer.
Paramount Pictures will distribute "Mission: Impossible – Rogue Nation" on July 31, 2015.