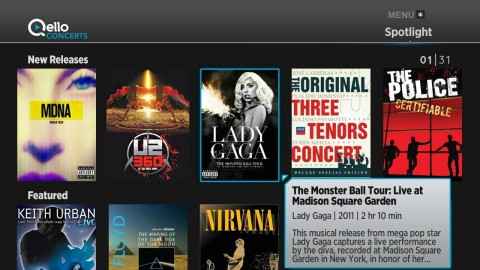 Qello Concerts now launched on the Roku streaming platform, bringing users access to a collection of full-length HD concert films and music documentaries on-demand.
The Qello Concerts Roku channel offers unlimited access to concerts and documentaries from every genre, including The Rolling Stones' "Live at the Max" and Lady Gaga's "The Monster Ball Tour: Live at Madison Square Garden," as part of an All-Access Pass subscription for $4.99 a month.
Additionally, subscribers can watch performances from artists, new and iconic, like Jimi Hendrix, Beyoncé, Jay-Z, Eric Clapton, B.B. King, Plácido Domingo, Queen, Imagine Dragons, Nirvana, Mumford & Sons, My Morning Jacket, TobyMac, Barbra Streisand, and more.
Roku users new to Qello Concerts can try the All-Access Pass for free by installing the channel on your Roku device and selecting "Start a 7-day free trial" when you launch the channel.
[ Also Read: Amazon Brings Fire TV for Your Living Room ]
"Roku is a great partner for Qello Concerts," says Brian Lisi, CEO of Qello. "Being able to bring the experience of a live concert to the living room is unbeatable, and with our vast library, consumers will always have something new to watch."
Roku is the creator of a streaming platform for delivering video, music and casual games to the TV. Roku is privately held and headquartered in Saratoga, Calif., U.S.
The Qello Concerts channel is available on all current-generation Roku players, including the new Roku Streaming Stick (HDMI version) and the Roku 3 player, joining more than 1,200 video, music, and other channels already available on the Roku streaming platform.
Qello is a digital entertainment company that streams HD quality content across multiple platforms.