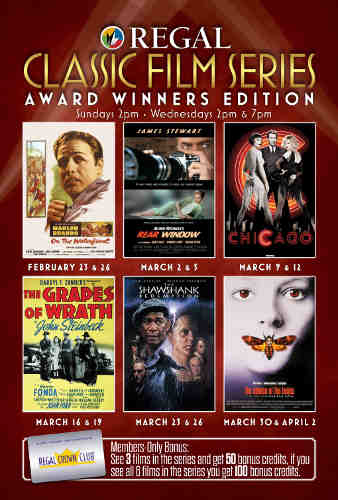 Regal Entertainment Group (NYSE: RGC), a leading motion picture exhibitor owning and operating a theatre circuit in the United States, announced Monday the latest edition of its "Classic Film Series" at more than 50 participating locations.
The six week film series will include award-winning films with screenings every Sunday and Wednesday beginning Sunday, Feb. 23.
"Many of the favorites for this year's awards are now playing in our theatres, providing Regal fans a chance to see them before Oscar night," said Ted Cooper, senior vice president of film at Regal Entertainment Group.
"During February we have programmed more than half of our 7,400 screens with current Oscar nominees. And now we are adding this opportunity for moviegoers to come see several award-winning classics during the height of awards season."
[ Also Read: British Academy Film Awards Winners Announced ]
Tickets for the "Classic Film Series" are available online and at the box office. Showtimes are 2:00 p.m. on Sundays along with both 2:00 p.m. and 7:00 p.m. showtimes on Wednesdays.
To find a full list of participating locations, click here.