The 50th Anniversary Sports Illustrated (SI) Swimsuit carries Nina Agdal, Lily Aldridge and Chrissy Teigen on the 2014 cover; said to be the first cover appearance for all three.
They join the ranks of iconic models including Kathy Ireland, Heidi Klum, Tyra Banks, Cheryl Tiegs and Christie Brinkley, who have graced an SI Swimsuit cover.
The 50th Sports Illustrated Swimsuit goes live across the Web, mobile, tablet and newsstands on Feb. 18th.
"The 2014 cover embodies the essence of Sports Illustrated Swimsuit," says Sports Illustrated Swimsuit Editor MJ Day.
"I'm speechless… This has been my goal. I couldn't be happier to be on this year's cover. It's absolutely amazing!" says Agdal.
"I am so incredibly honored to be part of this issue. As my first time ever shooting with Sports Illustrated I never imagined I would be on the cover," says Aldridge.
"I am so thrilled and honored to not only be on the cover but to be on the 50th Anniversary cover," says Teigen.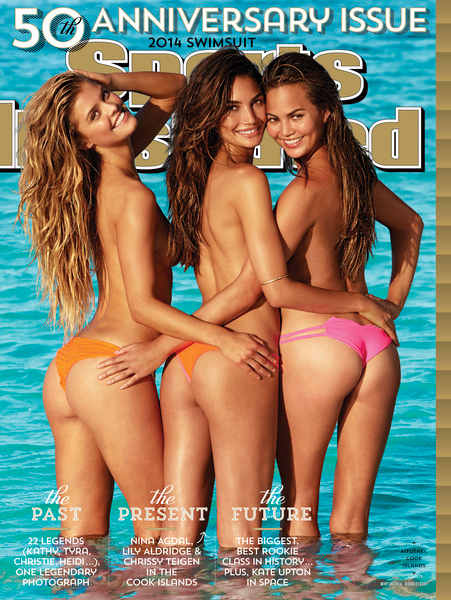 Photographed by James Macari for Sports Illustrated, this is the first ensemble cover since 2006, which featured Veronica Varekova, Elle Macpherson, Rebecca Romijn, Rachel Hunter, Daniela Pestova, Elsa Benitez, Carolyn Murphy and Yamila Diaz-Rahi and the fifth cover to feature multiple models ('06, '96, '94, '76).
The Sports Illustrated Swimsuit (www.SI.com/Swimsuit) franchise spans more than 20 product extensions in digital, social, broadcast, publishing, mobile and consumer products.