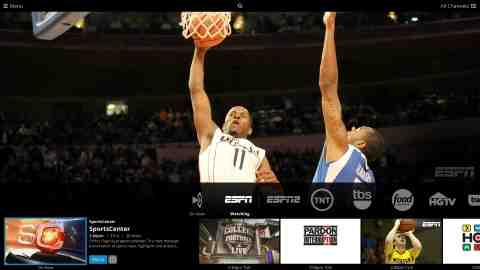 Sling TV released Tuesday its app for Xbox One, the first gaming console to support the live, over-the-top TV service.
Xbox One joins a constellation of other devices that support Sling TV, including Amazon Fire TV and Fire TV Stick; current-generation Roku players and Roku TV models; Android and iOS devices; and Macs and PCs.
"Sling TV and Xbox are a natural pairing; two out of three millennials think of themselves as gamers, while nearly nine out of 10 watch live sports on TV," said Roger Lynch, CEO of Sling TV.
The companies launched two exclusive limited-time offers for new Sling TV customers. Current Xbox Live members who have an Xbox One will receive one month of Sling TV free, after downloading the Sling TV app from the Xbox One Apps Store, courtesy of Microsoft.
Additionally, the first five thousand customers who purchase an Xbox One in a Microsoft retail store or at MicrosoftStore.com between March 17, 2015 and March 22, 2015 will receive three free months of Sling TV service.
Sling TV on Xbox One allows users to Pin the app to their Home, use Kinect voice or gesture controls for Xbox One, and run multiple activities simultaneously by using Xbox One's Snap feature.
Current Sling TV customers can add the app to their Xbox One consoles by downloading Sling TV from the Xbox One Apps Store and signing in with their Sling TV username and password. Additional information about Sling TV on Xbox One is available here.
Sling TV L.L.C., a subsidiary of DISH Network Corporation (NASDAQ: DISH), provides over-the-top television services including domestic and international live and Video-On-Demand programming.