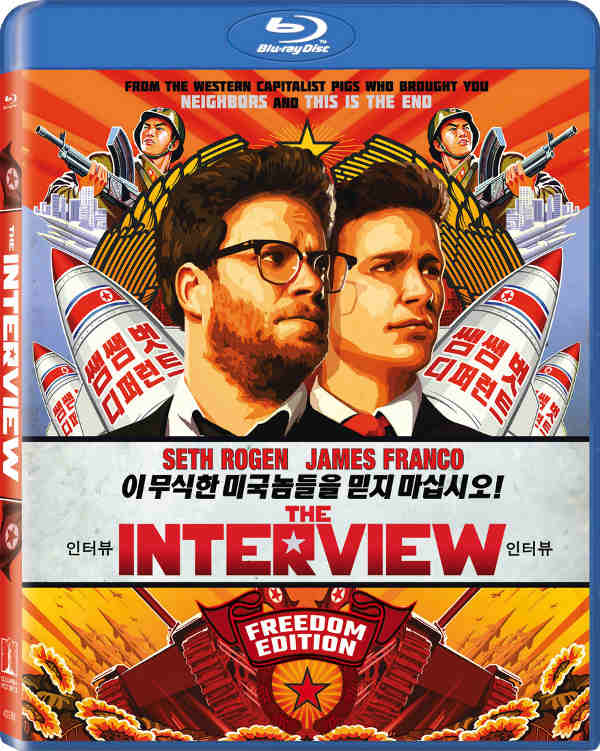 Sony Pictures Entertainment will release its new film The Interview on "Freedom Edition" collectible Blu-ray and DVD on Feb. 17.
The action-comedy stars Academy Award nominee James Franco (Best Actor, 127 Hours, 2010) as a celebrity talk show host and Seth Rogen (Neighbors) as his producer longing to make the jump to serious news.
After snagging an exclusive in-person interview with North Korea's Kim Jong-un (Randall Park, "Fresh off the Boat"), the unlikely pair are recruited by a covert CIA agent (Lizzy Caplan, "Masters of Sex") to embark on a mission to take out the reclusive dictator.
Also Read:
[ Sony Pictures to Distribute "The Interview" Online ]
[ Was FBI Right in Blaming North Korea for Sony Hacking? No. ]
The "Freedom Edition" Blu-ray disc comes packed with 90 minutes of bonus feature content, including 14 deleted scenes, multiple behind-the-scenes featurettes, a seven-minute blooper reel that shows the outrageous gags and goofs from the set, as well as three "line-o-ramas" (where cast shot several alternate takes of jokes during filming).
The film is directed by Seth Rogen and Evan Goldberg from a screenplay by Dan Sterling and a story by Seth Rogen, Evan Goldberg, and Dan Sterling.
Executive producers include Dan Sterling, Kyle Hunter, Ariel Shaffir, James Franco, Shawn Williamson and Ben Waisbren. Seth Rogen, Evan Goldberg and James Weaver serve as producers.