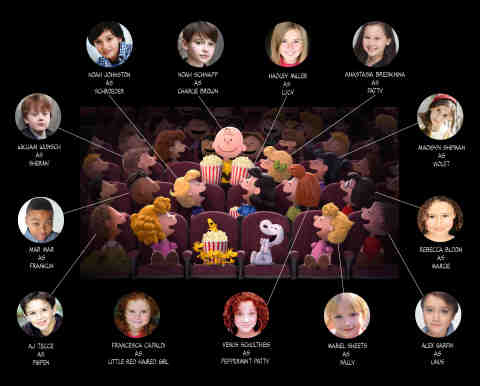 Twentieth Century Fox has announced the voice casting for The Peanuts Movie. Charlie Brown, Snoopy, Lucy, Linus and the rest of the cherished "Peanuts" gang will make their big-screen debut in 3D animation.
Snoopy, the beagle – and flying ace – embarks upon his greatest mission as he takes to the skies to pursue his arch-nemesis The Red Baron, while his best pal, Charlie Brown, begins his own epic quest.
From the imagination of Charles M. Schulz and the creators of the Ice Age films, good grief, The Peanuts Movie is stated to be more than just a chip off the ole BlockHead, it's a doggone cinematic spectacle.
Noah Schnapp voices the role of Good ol' Charlie Brown, the lovable loser who never gives up. The young actor recently filmed a role opposite Tom Hanks in director Steven Spielberg's untitled Cold War thriller. Most recently, Noah wrapped work on the indie film We Only Know So Much, based on the book of the same title.
Hadley Belle Miller provides the voice for Lucy, known around the neighborhood (and by her little brother, Linus) for being crabby and bossy and humiliating Charlie Brown. Hadley's voiceover credits include Sofia the First and Jake and the Neverland Pirates, and she has appeared on stage and in commercials.
AJ Tecce voices Pig-Pen, who happily travels in his own private dust storm. AJ appeared in the films Raising Ethan and Stereopsis, and in several commercials. He's also done extensive voiceover work.
Noah Johnston is Schroeder, a mini musical genius who is rarely separated from his toy piano or his idol, Beethoven. Noah voiced a role in Monsters University, and his television credits include The Tonight Show Starring Jimmy Fallon, Late Show with David Letterman, and The Daily Show.
Newcomer Venus Schultheis voices Peppermint Patty, a fearless born leader and a natural athlete who is up to any challenge…except studying. Venus wants to be a nurse and a cosmetologist, working on people's hair and nails while they are in the hospital or a nursing home. (If you see Venus's hair, you'll understand!) She enjoys snowboarding, skim boarding and tennis.
Alexander Garfin gives voice to Linus, the benevolent, blanket-clutching philosopher who always has a kind word for everybody…even his bossy older sister, Lucy. Alexander's numerous credits include the feature Salt, the television series Law & Order SVU and Saturday Night Live, and on stage, On Borrowed Time – and You're a Good Man, Charlie Brown.
Francesca Capaldi voices Little Red-Haired Girl, who has captured Charlie Brown's heart; now, if only he could muster the courage to speak to her! Francesca had a guest-starring role in Disney's A.N.T. Farm and on CBS' How I Met Your Mother, is a series regular on Disney's Dog with the Blog, and has appeared in the film 3-Day Test, as well as in several commercials.
Mar Mar voices Frankin, Charlie Brown's good friend and confidant, and the only one who never has an unkind word about the hapless hero, or anyone else for that matter, Mar Mar has worked on the TV series Austin & Alley (on the Disney Channel), Guys with Kids, Bubble Guppies and Good Luck Charlie.
Mariel Sheets voices Sally, Charlie Brown's little sister who believes the world owes her an answer for some of its most perplexing problems, such as: why does she have to go to school? Mariel has worked in film, appeared in national commercials, and done voiceovers for television, radio, and online.
Rebecca Bloom gives voice to Marcie, Peppermint Patty's best friend, loyal follower, and complete opposite. Rebecca was featured on The Tonight Show, and has had roles on stage in Annie, The Jungle Book and How to Eat Like a Child.
William Alexander Wunsch voices Shermy, Charlie Brown's friend, who is straight laced and dependable. William has extensive live performance experience, appeared in several commercials, and on Saturday Night Live with Jim Carrey.
Anastasia Bredikhina voices Patty, and Madisyn Shipman voices Violet – best friends who always side with the popular crowd. Anastasia is a trained actor, dancer, musician and model; Madisyn has appeared on Modern Love, Sesame Street, Saturday Night Live and The Daily Show.
The Peanuts Movie flies into theaters everywhere on November 6, 2015. That year marks the 65th anniversary of the debut of the "Peanuts" comic strip and the 50th anniversary of the landmark television special, "A Charlie Brown Christmas."
Steve Martino directs The Peanuts Movie; previously, he brought to the big screen (with Jimmy Hayward) Fox/Blue Sky's Dr. Seuss' Horton Hears a Who! Martino also directed (with Michael Thurmeier) Fox's recent box-office smash Ice Age: Continental Drift.
The screenplay is by Craig Schulz and the writing team of Bryan Schulz & Cornelius Uliano. Craig Schulz and Bryan Schulz, respectively Mr. Schulz's son and grandson, along with Uliano and Paul Feig are producing. Feig, the director of the blockbuster comedies "Bridesmaids" and "The Heat" and the upcoming "Spy," is said to be a "Peanuts" fan.