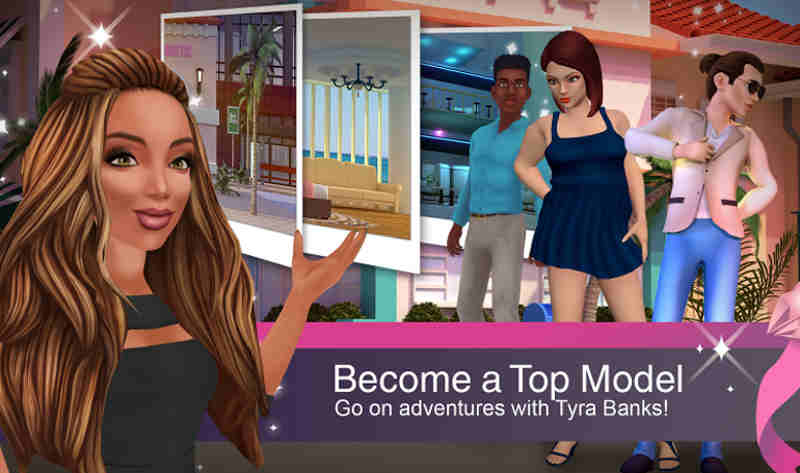 America's top TV host and creator of America's Next Top Model (ANTM), Tyra Banks and Ace and King Productions announced Thursday the release of the America's Next Top Model Mobile Game, a free download on worldwide iOS and Android app stores.
The Fierce One brings her many talents to the mobile screen letting fans define their style, travel the world, master the runway and ultimately become America's Next Top Model.
This mobile experience allows fans to develop their unique look, personality and fashion sense as they fight to the top of the fashion world. Aspiring models explore the fully 3D world, visiting the Planet Fierce Salon, shopping Next Level Fierce Finds and updating their photos at GlamLight Studios to adjust their look, nail auditions, and book runways from LA to Paris.
[ Submit Your Profile at RMN Stars Casting Hub ]
And it goes much deeper than that, players make friends and frenemies, interacting with roommates, agents, publicists, models and more along the way. Tyra's vision and message that created ANTM are reflected in every element of the experience, right down to the character customization developed with feedback from LBGTQ leaders to ensure inclusiveness in every corner of the digital world.
Key Features
Create your own aspiring model and rise to Top Model status with the help of ANTM experts.
Become a fashion icon: set yourself apart with fashion-forward wardrobes. Grow your social media following and increase your brand.
Models rise through the ranks as they try out new poses, walks and dress the part!
Adventure throughout the world: Dominate NYC and open doors to the rest of the world – London, Jamaica, India and more!
Network and build your brand: visit different shops and businesses around the country and make new friends along the way.
The mobile game captures the essence of what it's like being an up-and-coming model and the quintessential ANTM experience.
"We're excited to bring the America's Next Top Model experience to life in an all-new way," said David Ortiz, Founder & CEO, Ace and King Productions. "Tyra Banks' vast experience as a legendary model, business mogul, producer and America's #1 TV host brings unique and authentic storylines to this deep mobile gaming experience."
The America's Next Top Model Mobile Game is developed by Ace & King Productions, a new media company led by Hollywood veteran Jamie Gold and video game veteran David Ortiz, formerly of EA SPORTS and Microsoft.
America's Next Top Model is produced by 10 by 10 Entertainment in association with The Tyra Banks Company and distributed by CBS Television Distribution.