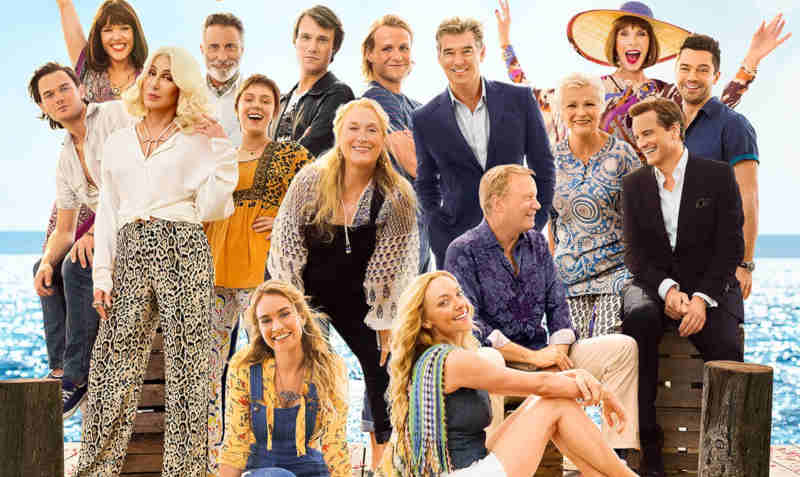 In anticipation of its upcoming Mamma Mia! Here We Go Again, Universal Pictures has announced that free sing-along screenings of the blockbuster musical comedy Mamma Mia! will be available on Mother's Day, Sunday, May 13, at 25 theater locations across the U.S. and Canada.
Each guest who requests a ticket the day of the screening—at a participating location—will be given one free admission to the 10:00 a.m. showing, up to theater capacity.
Free tickets will be available on a first-come, first-served basis and may only be picked up at the theater box office starting at 9:00 a.m. on Sunday, May 13. This offer is valid for the 10:00 a.m. showing of Mamma Mia! The Movie on May 13, at participating locations only.
About Mamma Mia!
Meryl Streep leads an all-star cast in the feature-film adaptation of the beloved musical that has been seen by more than 30 million people in 170 cities and 8 languages around the world. Bringing the timeless lyrics and melodies of iconic super group ABBA to movie audiences, Mamma Mia! originally opened in theaters on July 18, 2008.
[ Trump Hits Back at "Over-Rated" Actress Meryl Streep ]
The three women who created the worldwide smash stage hit—global producer Judy Craymer, writer Catherine Johnson and director Phyllida Lloyd—repeat their roles in bringing this musical story to the big screen. The Mamma Mia! film is produced by Judy Craymer and Gary Goetzman.
Pierce Brosnan, Colin Firth, Stellan Skarsgård, Christine Baranski, Julie Walters, Amanda Seyfried and Dominic Cooper join Streep in this celebration of a mother, a daughter and three possible dads.
An independent, single mother who owns a small hotel on an idyllic Greek island, Donna (Streep) is about to let go of Sophie (Amanda Seyfried), the spirited daughter she's raised alone.
[ Investors Invited for Superhero Project: Robojit and the Sand Planet ]
For Sophie's wedding, Donna has invited her two lifelong best girlfriends—practical and no-nonsense Rosie (Julie Walters) and wealthy, multi-divorcee Tanya (Christine Baranski)—from her one-time backing band, Donna and the Dynamos. But Sophie has secretly invited three guests of her own.
On a quest to find the identity of her father to walk her down the aisle, she brings back three men from Donna's past to the Mediterranean paradise they visited 20 years earlier. Over 24 chaotic, magical hours, new love will bloom and old romances will be rekindled on this lush island full of possibilities.
Inspired by the storytelling magic of ABBA's songs from "Dancing Queen" and "S.O.S." to "Money, Money, Money" and "Take a Chance on Me," Mamma Mia! is a celebration of mothers and daughters, old friends and new family found.
About Mamma Mia! Here We Go Again
Ten years after Mamma Mia! The Movie grossed more than $600 million around the world, you are invited to return to the magical Greek island of Kalokairi in an all-new original musical based on the songs of ABBA.
With the film's original cast returning and new additions including Lily James (Cinderella, Baby Driver), the musical comedy will open on July 20, 2018.
Mamma Mia! Here We Go Again is produced by Judy Craymer and Gary Goetzman, producers of the original film. Craymer is also the creator and producer of the worldwide smash-hit stage musical.
Ol Parker, writer of The Best Exotic Marigold Hotel, writes and directs the sequel from a story by Catherine Johnson, Richard Curtis and Parker. Benny Andersson and Björn Ulvaeus return to provide music and lyrics and serve as executive producers. Tom Hanks, Rita Wilson, Phyllida Lloyd, Richard Curtis and Nicky Kentish Barnes also serve as executive producers.
Reprising their roles from Mamma Mia! The Movie are Academy Award winner Meryl Streep as Donna, Julie Walters as Rosie and Christine Baranski as Tanya. Amanda Seyfried and Dominic Cooper reunite as Sophie and Sky, while Pierce Brosnan, Stellan Skarsgård and Oscar winner Colin Firth return to play Sophie's three possible dads: Sam, Bill and Harry.
As the film goes back and forth in time to show how relationships forged in the past resonate in the present, James will play the role of Young Donna. Filling the roles of Young Rosie and Young Tanya are Alexa Davies (A Brilliant Young Mind) and Jessica Keenan Wynn (Broadway's Beautiful).
Young Sam will be played by Jeremy Irvine (War Horse), while Young Bill is Josh Dylan (Allied) and Young Harry is Hugh Skinner (Kill Your Friends).
Photo / Video courtesy: Universal Pictures