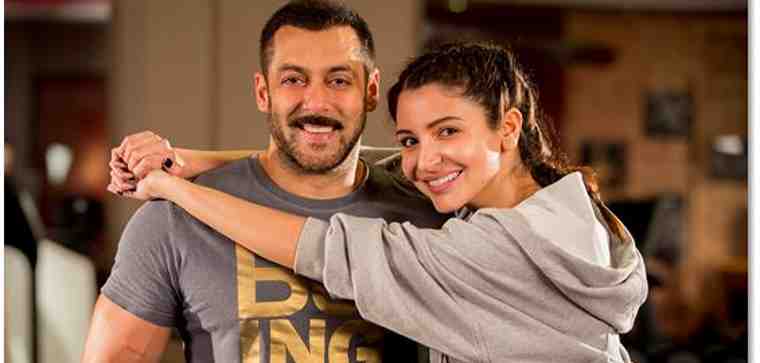 Those who are familiar with the religion-centric Indian politics know that Salman Khan is being rewarded for his sycophancy to Narendra Modi, the Prime Minister of India.
By Rakesh Raman
Ace Indian wrestler Yogeshwar Dutt, who won a bronze medal at the 2012 Summer Olympics, expressed his anguish Saturday on the appointment of Bollywood actor Salman Khan as a Goodwill Ambassador of the Indian contingent for Rio Olympics 2016.
In a series of tweets in Hindi, Dutt criticized Salman Khan who was arbitrarily handpicked by the Indian Olympic Association (IOA) to represent India at the Olympics event, which is scheduled to take place August 5 – 21 in Rio de Janeiro, Brazil.
The wrestler asked if India could win more Olympic medals by appointing an actor as ambassador. He remarked if the sports body had to do this deceptive drama, it should have chosen an athlete for the job.

Dutt also mentioned the names of top Indian runners P.T. Usha and Milkha Singh who, according to him, deserve the position of an ambassador instead of Salman Khan who has not done anything in sports.

Referring to Salman Khan's upcoming movie Sultan, Dutt suggested that the Olympics event is not the right place for the promotion of a movie. He believes that the sports administration has offered an easy platform to Salman Khan to promote his film.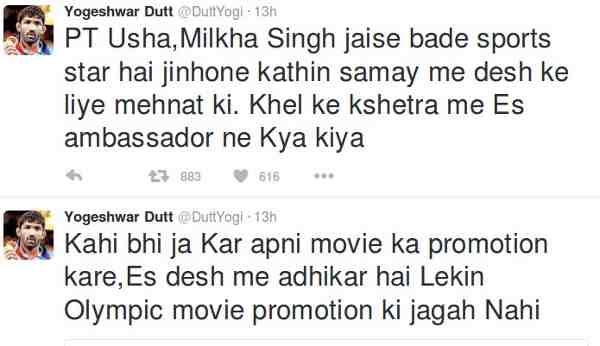 Why Salman Khan?
Those who are familiar with the religion-centric Indian politics know that Salman Khan is being rewarded for his sycophancy to Narendra Modi, the Prime Minister of India.
Most Muslims in India believe that Modi was responsible for the Gujarat riots of 2002 in which more than 2,000 Muslims were murdered while Modi was the state's Chief Minister.
While Salman Khan is also a Muslim, he chose to become an apple-polisher, a toady for Modi, hurting the sentiment of millions of Muslims in India.
[ Why Are Muslims Getting Close to Narendra Modi? ]
In order to support Modi in the 2014 Lok Sabha election, Salman Khan played some cheap gimmicks when he flew a kite with Modi just to win Muslim votes for him in the election.
As Salman-Modi footsie continued, in Decemeber 2015 Salman Khan was acquitted by an Indian court in a 2002 hit-and-run case. As it was a serious case in which one person was killed, many believed that Salman Khan would be imprisoned. But strangely the court decreed to let him go free. The less said about the Indian courts, the better.
The Modi government is rewarding all those who support its ideology of Hinduism aimed at making India a true Hindu Rashtra. Salman Khan is one of the beneficiaries.
Recently, another Hindu actor Manoj Kumar was suddenly rewarded by Modi's BJP for the actor's nationalist roles in films.
[ What Is the Future of Muslims in India? ]
Salman Khan is not alone who is trying to take undue benefits from his proximity to politician Modi. There is a bevy of Bollywood actors who are spending a lot of time in politics.
They include Shatrughan Sinha, Hema Malini, Vinod Khanna, Jaya Bachchan (wife of an actor-turned-politician-turned-actor Amitabh Bachchan), and others.
These actor misuse their popularity among uneducated Indian masses to win elections for corrupt politicians. Then they get benefits from the politicians in secret quid pro quo deals.
For example, like Salman Khan, it is reported that Bollywood actress and politician Hema Malini got a land worth Rs. 70 crore for a paltry Rs 1.75 lakh for a dance academy in Mumbai.
It is alleged that Amitabh Bachchan, with his own political links and a politician wife, is trying to circumvent the law to stash away money in foreign lands.
Bollywood Connection
All these Bollywood actors need political patronage because the Bollywood is perhaps the worst film market in the world. Bollywood movies are so bad in quality that they look like amateur marriage videos.
Most Bollywood movies target the poor or lower-income groups of people who don't have any other means of entertainment. Obviously, Bollywood movies are made on shoestring budgets and actors don't earn much.
[ Also Read: Why Bollywood Always Makes Bad Films ]
As a Bollywood film is made with dummy directors in just a few weeks using the archaic song-dance formula, most actors find it difficult to kill their time as they don't have enough work in hand.
Then just to make some easy money, they participate in private birthday parties and marriage ceremonies of customers who pay them trifling amount for their appearances in such functions.
And some like Salman Khan, Shah Rukh Khan, and Amitabh Bachchan waste their time in sports such as Olympics and cricket just to gain some cheap publicity which could help them earn more in films.
As Bollywood movies are bad and all these actors are quite old, they are finding it difficult to earn sufficient money in the film trade. Now, they are looking for other avenues such as sports to make a fast buck.
Salman Khan's case in the Olympic Games is part of an ugly trend where a convergence of Bollywood and politics is happening.
By Rakesh Raman, the managing editor of RMN Company
This article is part of our editorial initiative called
REAL VOTER
that covers political developments in India. Click here to visit
REAL VOTER
.
Photo courtesy: Yash Raj Films