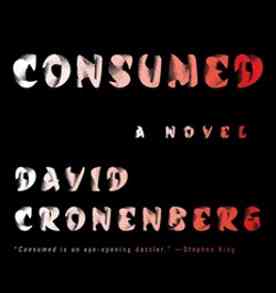 Simon & Schuster Audio announced the Academy Award-winning actor William Hurt as the narrator for the audiobook edition of Consumed, the first novel from award-winning filmmaker David Cronenberg.
An exhilarating journey into global conspiracy, the Consumed audiobook will be available on CD and for download on September 30, 2014 simultaneous with the hardcover and ebook editions.
The pair previously worked together on the critically acclaimed 2005 film A History of Violence, for which Hurt earned an Oscar nomination.
Cronenberg's other film credits include Stereo, Crimes of the Future, Fast Company, The Brood, The Dead Zone, The Fly, Naked Lunch, M. Butterfly, Crash, A Dangerous Method, Cosmopolis and Maps to the Stars.
---
Related Stories:
Lionsgate to Produce Allegiant Films from Veronica Roth's Book
Raman Media Network Books for Children
Kiran Bedi Narrates Her First Audio Book "As I See"
---
In 2006, he was awarded the Cannes Film Festival's Lifetime Achievement Award, the Carrosse d'Or, and in 2009 he was appointed a knight in France's Legion d'Honneur.
Hurt won an Academy Award for his performance in Kiss of the Spider Woman, and received additional nominations for Broadcast News and Children of a Lesser God.
He has also appeared in The Good Shepherd, Into the Wild, The Disappearance of Eleanor Rigby, The Big Chill, Gorky Park, Alice, and Smoke.
Among his many television credits are Emmy-nominated roles on FX's Damages and HBO's Too Big to Fail. Hurt has also appeared in over fifty stage productions including Henry V, Hamlet, and My Life as well as Hurlyburly, for which he received a Tony nomination.
Simon & Schuster Audio is a leading publisher of general interest audiobooks. Simon & Schuster, a part of the CBS Corporation, is a global company in the field of general interest publishing.
Photo courtesy: Simon & Schuster