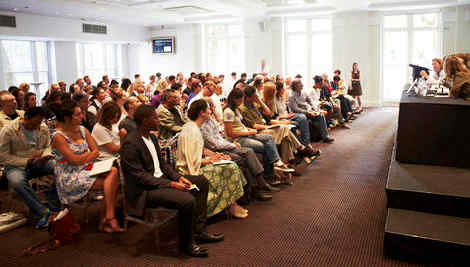 The British Academy of Film and Television Arts (BAFTA) and sponsor Sargent-Disc have announced that the Sargent-Disc BAFTA Filmmakers' Market will take place on Saturday, July 5, at BAFTA's headquarters, 195 Piccadilly in London.
It is an annual networking and skills development event for first-time feature filmmakers.
According to BAFTA, the event will comprise a packed day of masterclasses, screenings, and speed surgeries to help improve creative and business skills, as well as offering advice to help to navigate and progress in the industry.
[ Also Read: How to Make and Market Indie Films: 10 Steps ]
Highlights of the day include:
a British producers' masterclass with speakers including Damian Jones (Belle, The Iron Lady) and Kate Ogborn (The Spirit of '45, The Deep Blue Sea);
a session on 'how to find your cast', presented by RADA, with casting director Des Hamilton (Nymphomaniac, This Is England);
a series of 'meet the pro' roundtable sessions, presented by Creative Skillset, with top craft talent, including costume designer Jane Petrie (Top Boy, How I Live Now) and assistant director / producer Dan Winch (Peaky Blinders, Tyrannosaur);
and a CV clinic with Kate Watson of Sara Putt Associates.
BAFTA has run the Filmmakers' Market since 2009 and this year's event, which is sponsored by Sargent-Disc for a second year, is supported by a number of the UK's major film organisations.
[ Also Read: WorkingIndie to Connect Independent Film Community ]
Sargent-Disc specialises in payroll, accounting and software services for the entertainment industries.
"The Sargent-Disc BAFTA Filmmakers' Market has proved to be an immensely popular part of the BAFTA learning and events programme. It offers emerging filmmakers the chance to pick up hints and tips and the vital knowledge they need to succeed in making their first feature. BAFTA welcomes the opportunity it brings to share the wealth of experience of our speakers and partners with the new generation of film talent breaking through – helping them to become the BAFTA-winners of tomorrow," said Tim Hunter, director of Learning and Events at BAFTA.
[ Also Read: Film and Television Professionals Join BAFTA Crew ]
Other activity at the Sargent-Disc BAFTA Filmmakers' Market will include:
• Screenings and Q&As from festivals and film schools such as Sheffield Doc / Fest, London Short Film Festival, National Film and Television School, and London Film School, as well as the shorts nominated at this year's EE British Academy Film Awards.
• Roundtable 'meet the pro' sessions, presented by Creative Skillset, with speakers including hair and make-up designer Catherine Scoble.
• Film Forums on script development, directing and distribution.
• Masterclasses on budgeting and scheduling, casting and filming across England.
• Speed surgeries on topics including sourcing music and pitching a project.
• A networking reception for all participants at the end of the day, supported by British Council and Grolsch.
Here are the full programme details.
Photo courtesy: BAFTA