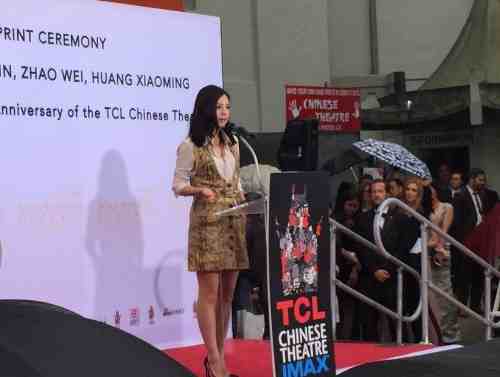 Two Chinese movie stars, Zhao Wei and Huang Xiaoming, and Chinese American director Justin Lin sank their hands and feet into the cement in the forecourt of the TCL Chinese Theatre in Los Angeles on June 3, the day which marked the 88th anniversary of the opening of the theatre.
Being invited to perform this act is one of the highest honors that can be bestowed on a film star, no matter what country or region he or she is from.
To date, 238 of the world's most acclaimed film stars, including Marilyn Monroe, Shirley Temple and Michael Jackson, have left their handprints and footprints there since 1927, when the theatre was founded by master showman Sid Grauman.
[ Talking to Hollywood with Betty Zhou ]
Zhao is the first Asian actress and Huang the first mainland Chinese actor to be accorded the honor, with the event having taken place at the anniversary ceremony this past Wednesday, bringing the total number of Chinese film stars to have been so honored up to six from the previous three. This reflects the increasing number of exchanges and collaborations between the Chinese and American film communities.
The Chinese Theatre, a combination of Chinese and Western elements and a landmark along the Hollywood Walk of Fame, was the venue for the Academy Awards ceremony for three years in a row, from 1943 to 1945.
On January 11th, 2013, the theatre announced the entry into a partnership with China's TCL Corporation, a leading global manufacturer of smart products and provider for internet application services.
On that date the theater officially changed its name to the TCL Chinese Theatre. This marks the theatre's first title sponsorship collaboration with an enterprise in its 85-year history.