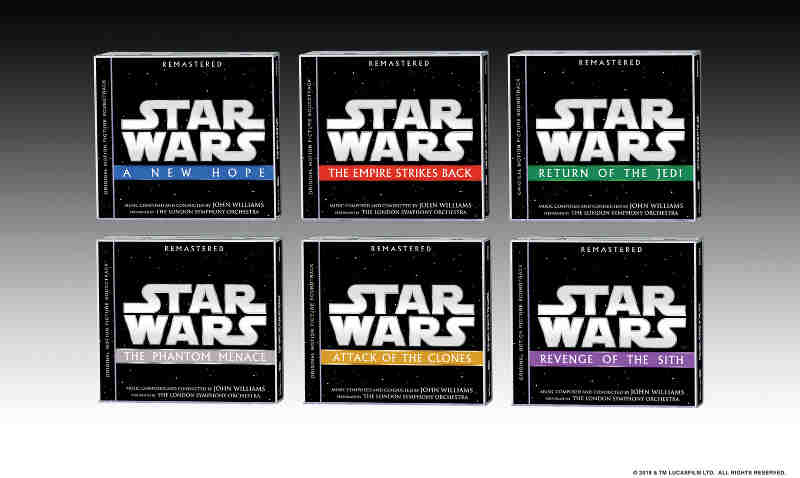 On May 4th, Walt Disney Records is set to release the original motion picture soundtracks for the first six Star Wars films: A New Hope (1977), The Empire Strikes Back (1980), Return of the Jedi (1983), The Phantom Menace (1999), Attack of the Clones (2002) and Revenge of the Sith (2005).
With scores composed and conducted by Academy Award-winning composer John Williams, each album has been remastered, features new artwork and a collectible mini-poster.
The soundtracks were reconstructed from new hi-resolution (24/192) transfers supervised by Shawn Murphy and Skywalker Sound. In addition to physical, each soundtrack is also available digitally.
John Williams is well known for scoring all eight of the Star Wars saga films to date, beginning with 1977's Star Wars: A New Hope for which he earned an Academy Award for Best Original Score.
His score for Star Wars: The Force Awakens was nominated for an Oscar and most recently, Star Wars: The Last Jedi received an Oscar nomination.
Williams has won five Academy Awards, four Golden Globe Awards, seven British Academy Film Awards, five Emmy Awards and 23 Grammy Awards.
With 51 Academy Award nominations, Williams is the Academy's most nominated living person and the second most-nominated individual in history, after Walt Disney.
The Star Wars: A New Hope 40th Anniversary 3-LP Collector's Edition hologram vinyl is available at Disney Music Emporium.