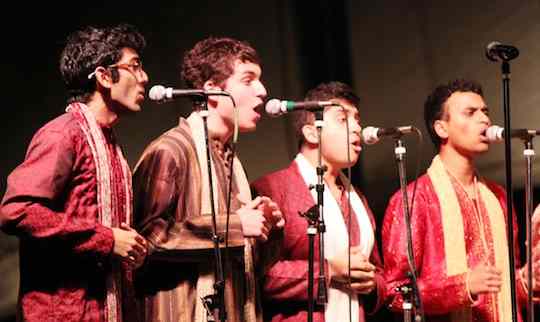 Penn Masala, claimed to be the world's first South Asian cappella (sung without instrumental accompaniment) group, has created a musical composition to represent the evolution of Bollywood music.
For those who are not familiar with Bollywood, it's the loose term for Indian film industry based in the city of Mumbai.
[ Also Read: Why Bollywood Always Makes Bad Films ]
Formed in 1996 by a group of students at the University of Pennsylvania, Penn Masala says it takes a fresh look at cappella by blending the best of South Asian sounds with the latest from the Western music scenes.
According to Penn Masala, its music has been influenced by the Eastern and Western cultures that represent the group's membership and it continues to inspire the South-Asian American population.
The group claims to have eight full-length studio albums: Kaavish, Panoramic, On Detours, Pehchaan, The Brown Album, Soundcheck, 11 PM, and Awaaz.
Over the years, Penn Masala says it has performed for President Obama at the White House, Indian billionaire Lakshmi Mittal in London, and music fans in India that included ace cricketer Sachin Tendulkar.
Photo courtesy: Penn Masala