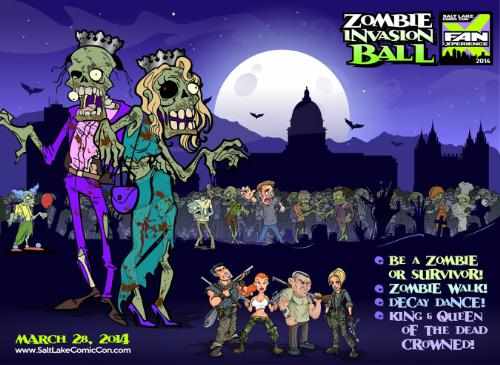 Zombies will invade the Utah State Capitol on March 28, 2014 as part of a pre Salt Lake Comic Con FanXperience (FanX) Zombie Ball.
Comic Con is partnering with SL Zombie Walk to occupy the Utah State Capitol. The ball will begin at 5:00 pm MST at the Utah State Capitol and end at 10:00 pm.
A large portion of the cast from the Walking Dead TV series will be at FanX. This includes Norman Reedus, Chandler Riggs, Laurie Holden, and Jon Bernthal.
Salt Lake Comic Con and Salt Lake Comic Con FanX are organized by Dan Farr Productions in partnership with Media One of Utah, a joint operating agreement between the Salt Lake Tribune and the Deseret News, and ABC4/CW30 of the Nexstar Broadcasting Group.
Dan Farr Productions is an event and marketing group devoted to organizing events, launching and acquiring new shows, and partnering with premium celebrities and brands in the pop culture arena.
The SLC Zombie Walk is a semi-organized public gathering of people who dress up in zombie costumes.
The Zombie Walk takes place in downtown Salt Lake City where the participants make their way around the city streets in a somewhat orderly fashion and often limping their way around a public space.