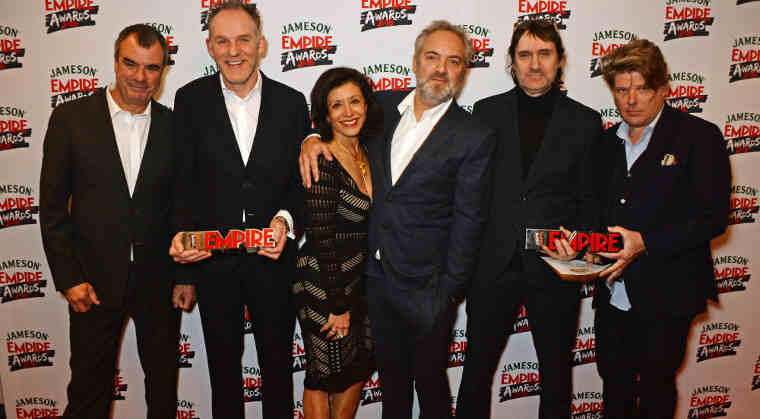 Spectre has won Best British Film and Best Thriller at the Empire Awards.
On hand to pick up the awards were Director Sam Mendes, Executive Producer Callum McDougall, Special Effects Supervisor Chris Corbould, Costume Designer Jany Temime and Writers Neal Purvis and Robert Wade. Both awards were voted for by the general public.
Taking more than $850million worldwide, Spectre is one of the most successful Bond movies ever breaking records in nearly every market it was released, led by a historic performance in the UK.
The Blu-ray and DVD Special Features include an in-depth look at the jaw-dropping opening scene in Mexico City alongside a host of video blogs about the supercars, music, action, and more.
[ Celebrations Begin for Global James Bond Day ]
A cryptic message from the past sends James Bond (Daniel Craig) on a rogue mission to Mexico City and eventually Rome, where he meets Lucia Sciarra (Monica Bellucci), the beautiful and forbidden widow of an infamous criminal.
Bond infiltrates a secret meeting and uncovers the existence of the sinister organisation known as Spectre.
[ Visit and Support RMN Foundation Free Schools for Children ]
Meanwhile back in London, Max Denbigh (Andrew Scott), the new head of the Centre for National Security, questions Bond's actions and challenges the relevance of MI6, led by M (Ralph Fiennes).
Bond covertly enlists Moneypenny (Naomie Harris) and Q (Ben Whishaw) to help him seek out Madeleine Swann (Lea Seydoux), the daughter of his old nemesis Mr. White (Jesper Christensen), who may hold the clue to untangling the web of Spectre. As the daughter of an assassin, she understands Bond in a way most others cannot.