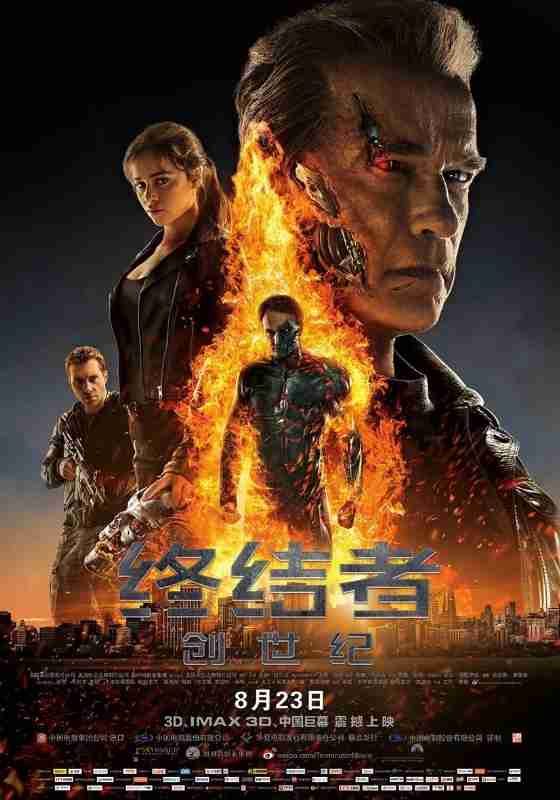 Terminator Genisys, released by Paramount and starring Arnold Schwarzenegger, hit the mainland Chinese market on August 23.
The box office revenue of US$27 million dollars from its first day, ranked #4 on the list of first day box office revenue in China.
After 10 days of release, Terminator Genisys's box office in mainland China had overtaken North America to become the largest box office market for the film around the world.
Currently, the Chinese box office gross has reached US$113 million dollars, ranking #12 on the ranking list of box office revenue of imported films, and its global box office has already surpassed the US$400 million dollar mark.
[ Global Economic Race: China No. 1, America No. 2 ]
Though screenings in China began two months later than North America, the film's strong performance in Chinese market was particularly important to its overall success.
It is predicted that box office in China may reach 40 billion yuan (US$ 6.2 billion approximately) in 2015 and that it will soon surpass North America to become the world's number one market for ticket sales.
A complex market environment has taken shape in China owing to the country's large territory with territorial differences in income, climates, languages and cultures.
[ Bollywood Movie Dhoom:3 Releasing in China ]
Meanwhile, cinemas are showing more than 20 films a day on average with more than 150,000 screenings in the country. While there is huge box office potential, competition between domestic and imported films is getting fiercer than ever. Results in the Chinese market have become increasingly important for films in the global market.
China Media Movie Group (CMM Group), led the marketing efforts for Terminator Genisys in mainland China, and is also one of the global investors for the film.
Well known in Chinese film industry, CMM Group is a movie company that specializes in integrated marketing operations, real-time Big Data analysis and application, film investment, film marketing and film media advertising.
CMM worked together with Paramount for the first time in 2014, taking on a key role in the marketing of Transformers: Age of Extinction in mainland China.
The film garnered approximately US$319 million dollars in box office revenue in China, breaking box office records for a US film in Chinese film history and reaching the US$1 billion dollar mark in global box office.