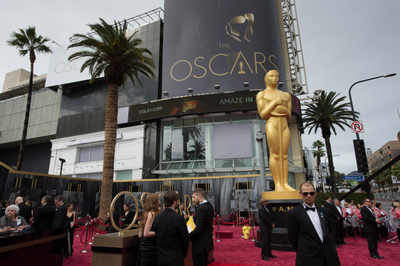 Nine features will advance to the next round of voting in the Foreign Language Film category for the 88th Academy Awards. Eighty films had originally been considered in the category.
The films, listed in alphabetical order by country, are:
Belgium, "The Brand New Testament," Jaco Van Dormael, director;

Colombia, "Embrace of the Serpent," Ciro Guerra, director;

Denmark, "A War," Tobias Lindholm, director;

Finland, "The Fencer," Klaus Härö, director;

France, "Mustang," Deniz Gamze Ergüven, director;

Germany, "Labyrinth of Lies," Giulio Ricciarelli, director;

Hungary, "Son of Saul," László Nemes, director;

Ireland, "Viva," Paddy Breathnach, director;

Jordan, "Theeb," Naji Abu Nowar, director.
Foreign Language Film nominations for 2015 are being determined in two phases.
[ Also Read: How Oscars Are Losing Their Sheen ]
The Phase I committee, consisting of several hundred Los Angeles-based Academy members, screened the original submissions in the category between mid-October and December 14.
The group's top six choices, augmented by three additional selections voted by the Academy's Foreign Language Film Award Executive Committee, constitute the shortlist.
[ RMN Foundation: Friends of the Future Schools in India ]
The shortlist will be winnowed down to the category's five nominees by specially invited committees in New York, Los Angeles and London. They will spend Friday, January 8, through Sunday, January 10, viewing three films each day and then casting their ballots.
The 88th Academy Awards nominations will be announced live on Thursday, January 14, 2016, at 5:30 a.m. PT at the Academy's Samuel Goldwyn Theater in Beverly Hills.
The 88th Oscars will be held on Sunday, February 28, 2016, at the Dolby Theatre at Hollywood & Highland Center in Hollywood, and will be televised live by the ABC Television Network at 7 p.m. ET/4 p.m. PT.
The Oscar presentation also will be televised live in more than 225 countries and territories worldwide.