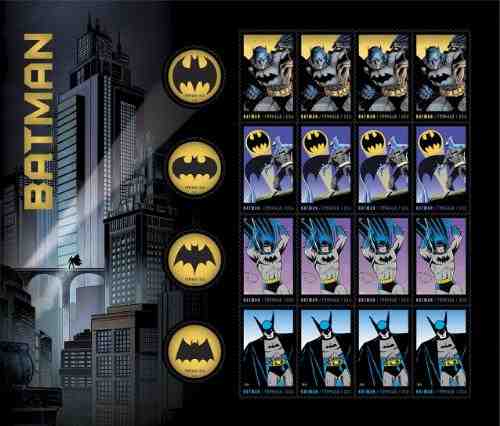 The U.S. Postal Service, in collaboration with Warner Bros. Consumer Products and DC Entertainment, has announced that Batman, one of DC Comics' characters, will be immortalized in a Limited Edition Forever postage stamp collection.
The first-day-of-issue dedication ceremony for the Limited Edition Forever Batman Stamp Collection Set will take place in "Gotham City," at 10:30 a.m., Oct. 9 at the Javits Center to kick off New York Comic Con 2014.
In honor of Batman's 75th anniversary as the protector of Gotham City, he will join the elite ranks of American pop-culture icons that have been given this honor.
The stamp collection will feature multiple images of the Caped Crusader from artistically distinct periods across his comic book history, exhibiting the evolution of the Dark Knight over the past seven-and-a-half decades.
"The U.S. Postal Service has a long history of celebrating America's icons, from political figures to pop-culture's most colorful characters. We are thrilled to bring Batman off the pages of DC Comics and onto the limited edition Forever Batman stamp collection, marking his place in American history," said U.S. Postal Service chief marketing and sales officer Nagisa Manabe.
First appearing in the comic book Detective Comics #27, which hit newsstands March 30, 1939, featuring artwork by Bob Kane and a script by Bill Finger, Batman emerged from the shadows to become a popular Super Hero in the entertainment world.