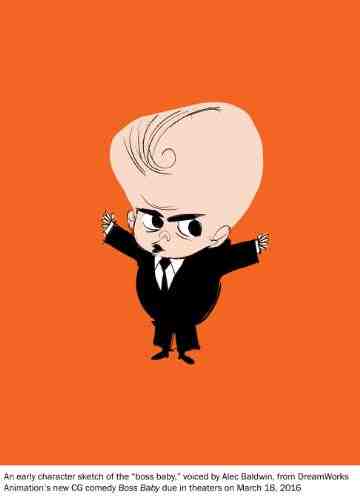 Academy Award nominee Alec Baldwin suits up to play the boss (who FYI, is a total baby) in DreamWorks Animation's upcoming comedy feature Boss Baby.
Joined by two-time Academy Award winner Kevin Spacey who will take on the role of corporate uber-villain (and baby nemesis) Francis E. Francis, the two will duke it out for the proverbial "World's Best Boss" mug.
Inspired by Marla Frazee's award-winning picture book of the same name (Publishers Weekly Best Children's Picture Book of the Year in 2010), the CG film will be released by 20th Century Fox on March 18, 2016.
Directed by Tom McGrath (Madagascar franchise, Megamind), produced by Ramsey Naito (The Spongebob Squarepants Movie) and Denise Cascino (Mr. Peabody & Sherman, Megamind) and written by Michael McCullers (Austin Powers films), Boss Baby is a family comedy about the bossiest member in every family – the new guy.
From the day his baby brother arrived (in a cab…wearing a suit), seven-year-old Tim knew this fast-talking briefcase-carrying baby (voiced by Baldwin) was trouble – after all, there's only so much love to go around, right?
But as Tim embarks on a mission to win back the sole affection of his parents, he stumbles upon a secret plot by the CEO of Puppy Co. (voiced by Spacey) that threatens to destroy the balance of love in the world – and this brash baby executive masquerading as his new brother is at the center of it all.
Now, they must come together as true brothers to stop the dastardly scheme, save their parents, restore order to the world, and prove that love is indeed an infinite force.
DreamWorks Animation creates entertainment content, including CG animated feature films, television specials and series and live entertainment properties, meant for audiences around the world.
All of DreamWorks Animation's feature films are produced in 3D. The company has theatrically released a total of 29 animated feature films, including the franchise properties of Shrek, Madagascar, Kung Fu Panda, How to Train Your Dragon, Puss In Boots and The Croods.