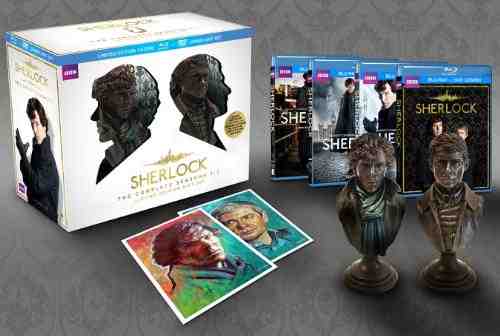 Sherlock: The Complete Seasons 1-3 Limited Edition Gift Set includes a bonus disc that features never-before-seen footage, new commentary from Season Three, and interview footage never before released on disc.
Starring Benedict Cumberbatch (The Hobbit films, Star Trek Into Darkness) and Martin Freeman (The Hobbit films, Fargo) as the crime-solving duo of Holmes and Watson, the first ever box set of the Emmy Award winning "PBS Masterpiece" series will appear in stores November 4, 2014 from BBC Home Entertainment.
This set includes every episode from all three seasons on both Blu-ray and DVD formats, along with the original bonus features released with each season.
[ Also Read: The Adventures of Prime Minister MOTI: Textisode 1.2 ]
Additionally, the set features all new commentaries, never-before-seen outtakes, a deleted scene, and exclusive collectibles including limited edition art cards and busts of Sherlock Holmes and John Watson.
Suggested Retail Price: Blu-ray + DVD combo gift set $197.50 ($222.00 in Canada)
Length: Approx. 810 mins + bonus materials / 7 BD + 7 DVD discs
Sherlock is a Hartswood Films Production for BBC / Cymru Wales co-production with Masterpiece.
BBC Worldwide is the main commercial arm and a wholly owned subsidiary of the British Broadcasting Corporation (BBC).