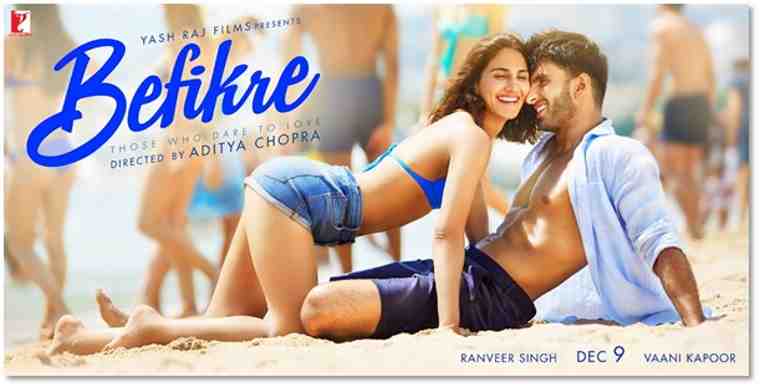 The #Befikre couple Ranveer Singh and Vaani Kapoor launched Tuesday You and Me, the latest song from their film in Mumbai.
You and Me adds to the other songs from the film including Nashe Si Chadh Gayi and Ude Dil Befikre.
'You and Me' reflects contemporary sentiment among today's young – a special relationship that has 'no label'.
Dharam and Shyra build up a strong comfort level with each other by just hanging out together, indulging in fun, frolic and making the most of mundane time together.
---
New Bollywood Films:
[ Amitabh Bachchan and Aamir Khan to Star in Thugs of Hindostan ]
[ Bollywood Actor Salman Khan Stars in Tiger Zinda Hai ]
[ Befikre Film Trailer Released at the Eiffel Tower ]
---
Like the carefree, impulsive spirit of Befikre the film, You and Me is all about a relationship blossoming without raising any judgments and living in the moment.
Befikre is a story that celebrates being carefree in love. A Delhi boy Dharam (Ranveer Singh) comes to Paris for work in search of an adventure. Just when he was about to embark on` this journey of his life, he bumps into a wild, free spirited, French born Indian girl Shyra (Vaani Kapoor).
A feisty romance ensues between the two in which both of their personalities – one being an equal match for the other are tested to the limit. Battling their ups and downs, both realize that love is a leap of faith that can only be taken by those who dare to love.
Yash Raj Films' Befikre features music by Vishal and Shekhar and has been shot entirely in Paris.