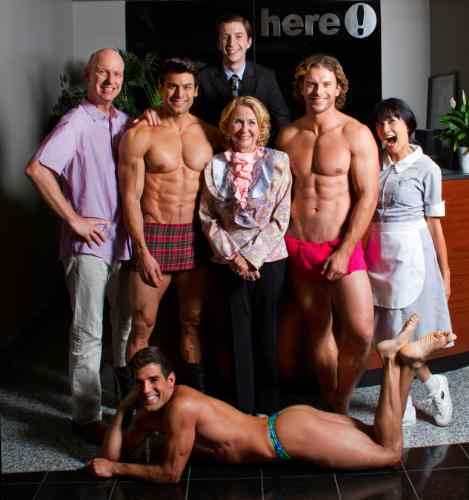 Here TV, a gay television network in America, today announced the television premiere of From Here on OUT, the network's first-ever original sitcom.
Written and created by Terry Ray, who also stars, the first two episodes of From Here on OUT make their television broadcast premiere on Friday, March 28, 2014, exclusively on Here TV.
"This series brings a full-frontal sensibility to a retro sitcom," says Emmy-nominated producer-actor David Millbern. "Injecting broad comedy into the Here TV space has created a truly fun experiment."
Directed by Sam Irvin, the six-episode series also stars Emmy Award winner Juliet Mills (QB VII, Nanny and the Professor), Suzanne Whang (House Hunters, Las Vegas), T.J. Hoban, Adrian Gonzalez (August), and newcomers Austin Robert Miller and Michael Lanham. Paul Colichman and Stephen P. Jarchow executive produce.
This new comedy goes behind the scenes at LGBT premium cable network Here TV. From Here on OUT centers on the adventures of aging gay writer, Jimmy Randall, as he tries to get his dream project made into a television series.
Guest stars appearing in the first season of From Here on OUT include Julie Brown, David Millbern, Sam Pancake, Jesse Pepe, and Emrhys Cooper.