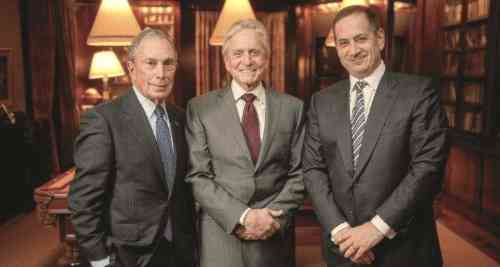 The Genesis Prize Foundation announced today that Jay Leno will return to Israel and serve as Master of Ceremonies for the second annual Genesis Prize Award Ceremony on June 18, 2015, when this $1 million Prize will be awarded to Michael Douglas.
Jay Leno hosted last year's ceremony, when philanthropist, entrepreneur and former New York City Mayor Michael Bloomberg received the inaugural award.
Jay Leno's career in show business has spanned over 45 years; 22 of which he spent hosting NBC's The Tonight Show with Jay Leno, a post he left in February 2014.
[ BBC Ignores Government Order, Releases Banned India's Daughter ]
"I'm thrilled to host the Genesis Prize Award Ceremony for the second year in a row, and to return to Israel, a country and people that welcomed me with such warmth last summer," remarked Leno. "It will be an honor to serve as host when Michael Douglas receives this prestigious award."
The upcoming 2015 Ceremony will be composed of three elements: a tribute to the Laureate, a celebration of the contribution of Jews to Hollywood and Broadway, and a segment on inclusion, diversity and tolerance – the main theme of the Genesis Prize Foundation's activities this year.
[ Jews for Jesus Film: That Jew Died for You ]
Michael Douglas has announced earlier that he plans to contribute his $1 million prize to projects that promote and encourage inclusiveness in the Jewish community.
Michael Douglas is the winner of two Academy Awards, four Golden Globes, and an Emmy. He is also known for his passionate advocacy as a United Nations Messenger of Peace, focusing on human rights, gun violence prevention, and nuclear anti-proliferation work.
"After 22 years of hearing Jay poke fun of my movies on The Tonight Show, it'll be a nice change to be there when he does it in person," said Michael Douglas.
The Genesis Prize is an annual award honoring individuals who have attained excellence and international renown in their chosen professional fields, and who inspire others through their engagement and dedication to the Jewish community and / or the State of Israel.