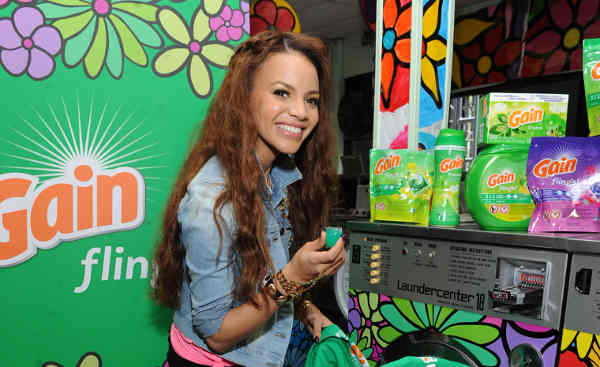 The Bronx came alive Friday in a celebration of art, music and culture, with the unveiling of Gain's #MusicToYourNose Laundromat Takeover.
Procter & Gamble (P&G) detergent brand Gain, with help from non-profit Portraits of Hope, transformed six laundromat locations throughout the Bronx, Washington Heights and Spanish Harlem, into colorful, multidimensional art created by community residents and school children.
Bronx-born, Latin Grammy-nominated artist Leslie Grace was also on hand to help bring attention to the community beautification project and to surprise her hometown community with a celebratory pop-up concert which included the exclusive debut performance of her latest single, "Nadie Como Tu."
"This is my first time back in the Bronx since I was a kid, and I'm so excited to help Gain spread a bit of unexpected joy and celebration to the community," said Grace.
[ Also Read: Finally, Jennifer Lopez Returns to the Bronx ]
In addition to experiencing the art and pop-up concert, residents also had the opportunity to take "selfies" within the art installation and enter to win the Gain #MusicToYourNose Instagram Sweepstakes, which runs through June 16, 2014.
Yahoo en Español and Sony Music Latin also helped amplify these local efforts through the creation of an exclusive video series to be featured on a custom section of the Yahoo Mujer page titled, "Se Feliz."
In addition to articles, slide shows and editorial blogs, "Se Feliz" will host an eight part video series featuring Leslie Grace, including video footage of a performance event and Portraits of Hope makeover reveal of a Laundromat in Grace's hometown in the Bronx. Select pieces of that content will also live on this site.
In the picture above: Latin Grammy-nominated singer-songwriter Leslie Grace makes laundry joyful at the Gain #MusicToYourNose Laundromat Takeover, Friday, May 16, 2014, in the Bronx. Procter & Gamble's Gain partnered with Portraits of Hope to transform neighborhoods with community-created art displays. (Photo by Diane Bondareff / Invision for Gain)