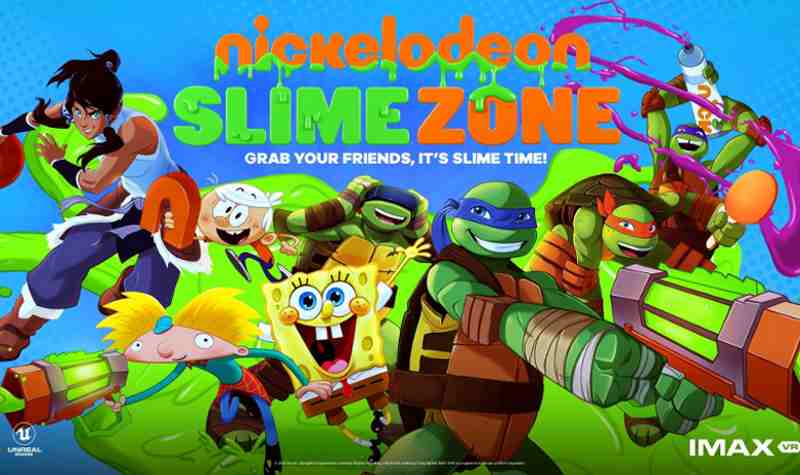 Nickelodeon and IMAX Corporation have partnered to bring SlimeZone, the network's first multi-player social virtual reality (VR) experience, to IMAX VR Centres globally.
Created in the Nickelodeon Entertainment Lab, SlimeZone allows up to six players to step inside the Nickelodeon virtual world, play games, watch cartoons and slime friends.
SlimeZone debuts exclusively at IMAX VR Centres in Los Angeles, New York City and Toronto, and is scheduled to launch at centers in Shanghai, Bangkok, and Manchester (UK) soon.
SlimeZone is a multi-player social VR experience that allows kids and families the opportunity to interact in a Nickelodeon-designed virtual world. After selecting an avatar, users of all ages can slime blast their friends with Nickelodeon's green slime, play games such as ping pong and basketball, create art projects using glitter streams and colorful paint, and watch fan-favorite Nickelodeon cartoons.
Non-virtual reality players can participate alongside their friends and family as they explore the Nickelodeon world in spectator mode, by flying a virtual drone from a device to slime players.
Launched in 2017, the Nickelodeon Entertainment Lab focuses on long-range research and development of emerging technologies. The Lab experiments with VR, mixed-reality, augmented reality and artificial intelligence to provide Nickelodeon artists and creators with innovative tools that inspire new ways to tell stories for the next generation of kids.
Nickelodeon recently announced a financial investment in Dreamscape Immersive, the location-based VR startup, whereby both entities have committed to produce an experience using Nickelodeon's IP for kids and families.