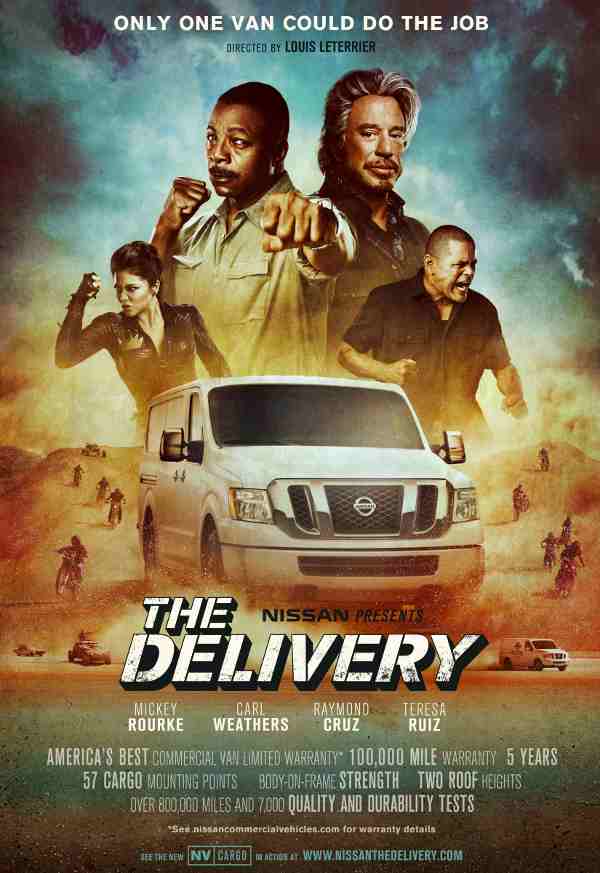 Nissan launches a new marketing campaign for its rugged line of commercial vehicles featuring film and TV stars Mickey Rourke, Carl Weathers, Raymond Cruz and Teresa Ruiz.
The "Tough Guys" digital and print effort breaks November 12 across a variety of social media and digital platforms including YouTube and Facebook, with digital partners including Entrepreneur, Inc., and Forbes.
Carrying the theme "Payback Delivered," the centerpiece of the campaign is a six-minute online action parody titled, "The Delivery."
[ RMN Foundation: Friends of the Future Schools in India ]
The short piece spoofs the 80s action movie subgenre while showcasing the many features of the Nissan Commercial Vehicle (NCV) lineup.
The short film in which Special Ops Agent (Weathers) teams up with a retired Green Beret, turned florist, (Rourke) for "one last job" – a special and highly confidential delivery that takes them on a wild adventure through the Mexican desert.
Along the way, they are forced to fend off a gang of angry locals (led by Raymond Cruz) in order to save the day for one powerful leading lady (played by Ruiz).
As the story unfolds, the standout features of Nissan Commercial Vehicles are revealed. In addition to the short film, there are four, 45-second, product-focused videos that highlight the leading features of the NCV fleet.