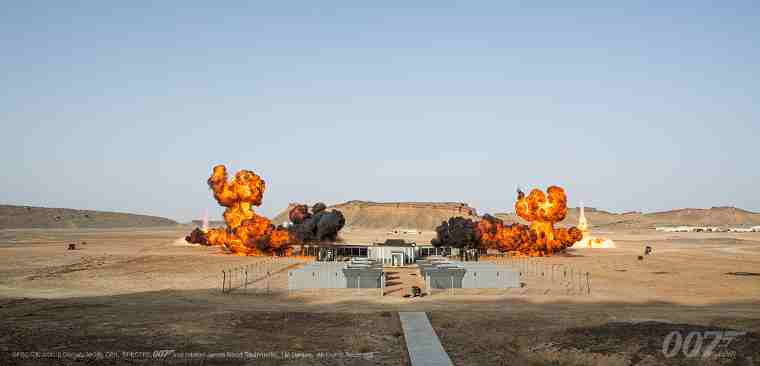 James Bond film Spectre has been awarded a Guinness World Records title for the Largest Film Stunt Explosion, it was announced Tuesday in Beijing, China.
Producer Barbara Broccoli, Daniel Craig and Léa Seydoux, accepted the record certificate on behalf of winner Chris Corbould, who served as Special Effects and Miniature Effects Supervisor on Spectre.
The explosion was filmed for a pivotal scene in the film that took place on June 28, 2015 in Erfoud, Morocco and used 8418 litres of fuel and 33kg of explosives.
[ James Bond Film Spectre Makes $190 Million ]
Commenting on the announcement, Michael G. Wilson and Barbara Broccoli, the producers of Spectre, said, "It is absolutely tremendous that the Guinness World Records have recognised Chris Corbould's incredible work in Spectre in which he created the largest explosion ever in film history."
Spectre
A cryptic message from the past sends James Bond (Daniel Craig) on a rogue mission to Mexico City and eventually Rome, where he meets Lucia Sciarra (Monica Bellucci), the beautiful and forbidden widow of an infamous criminal. Bond infiltrates a secret meeting and uncovers the existence of the sinister organisation known as Spectre.
[ Celebrations Begin for Global James Bond Day ]
Meanwhile back in London, Max Denbigh (Andrew Scott), the new head of the Centre for National Security, questions Bond's actions and challenges the relevance of MI6, led by M (Ralph Fiennes).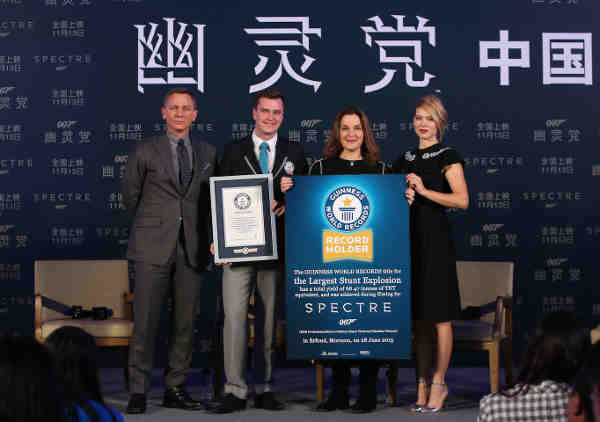 Bond covertly enlists Moneypenny (Naomie Harris) and Q (Ben Whishaw) to help him seek out Madeleine Swann (Lea Seydoux), the daughter of his old nemesis Mr. White (Jesper Christensen), who may hold the clue to untangling the web of Spectre. As the daughter of an assassin, she understands Bond in a way most others cannot.
As Bond ventures towards the heart of Spectre, he learns of a chilling connection between himself and the enemy he seeks, played by Christoph Waltz.
Sam Mendes returns to direct Spectre, with Daniel Craig reprising his role as 007 for the fourth time. Spectre is produced by Michael G. Wilson and Barbara Broccoli.
The screenplay is by John Logan and Neal Purvis & Robert Wade and Jez Butterworth, with a story by John Logan and Neal Purvis & Robert Wade.