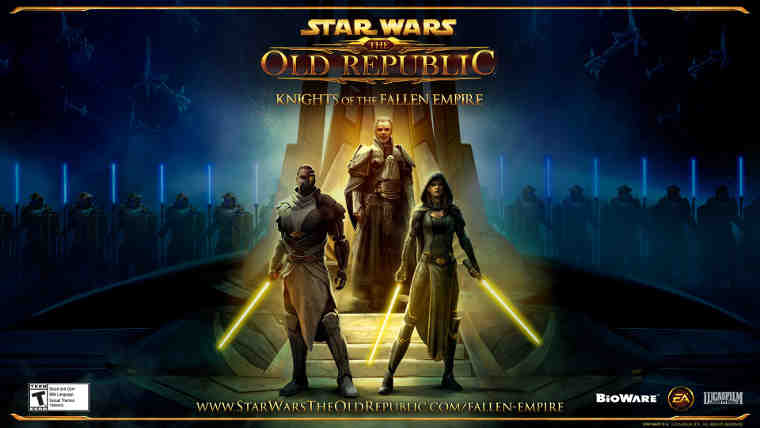 BioWare, an Electronic Arts studio, and Lucasfilm Ltd. have announced the launch of the new Digital Expansion for Star Wars: The Old Republic, Knights of the Fallen Empire.
Free for all subscribers, Knights of the Fallen Empire is a return to a deeper, more personal experience that delivers on the hallmarks of BioWare-style storytelling.
Players create their own adventure to new planets in the outer rim of the galaxy, meet companions and recruit them as allies, make choices that have the power to change destiny, and determine the fate of the galaxy.
The expansion includes the first nine chapters of an evolving player-driven storyline, with new chapters continuing to release episodically.
This new adventure also offers first-time players an accessible point of entry to the exciting universe of Star Wars: The Old Republic. The digital expansion also includes a free Level 60 character, allowing them to jump straight into the Knights of the Fallen Empire storyline to experience a deep and personal adventure.
[ 'Star Wars: The Force Parade' Invades Shanghai ]
The story of Knights of the Fallen Empire focuses on the player, as their character becomes the Outlander, a veteran of the Great Galactic War. As the Outlander, players must confront a powerful new enemy, the immortal Emperor, Valkorion, whose dark destiny is tied to their own.
Knights of the Fallen Empire also offers players an enhanced experience of the first 50 levels of Star Wars: The Old Republic which have been refined to put more focus on a player-driven story arc.
In addition, all of the Flashpoints in the core story now feature a solo mode with level sync, offering players the ability to play these missions on their own as they adapt to the character's level.
These enhancements make playing the origin stories of the eight different iconic Star Wars character classes including Jedi, Sith, Bounty Hunter, Smuggler and more, a more engaging experience for all players
Players can join the adventure. The expansion will be available for free to all Subscribers of Star Wars: The Old Republic.
Star Wars: The Old Republic is a Free-to-Play online multiplayer role-playing game set thousands of years before the classic Star Wars movies.
Players team up with friends online to fight in heroic battles between the Republic and Empire, exploring a galaxy of vibrant planets and experiencing visceral Star Wars combat.
Now players can experience the complete storylines of the eight iconic Star Wars classes, without having to pay a monthly fee.
The first 50 levels of gameplay, including 8 unique class stories, is offered as a Free-to-Play download and complements the existing subscription offering, providing greater flexibility in how to experience Star Wars: The Old Republic.