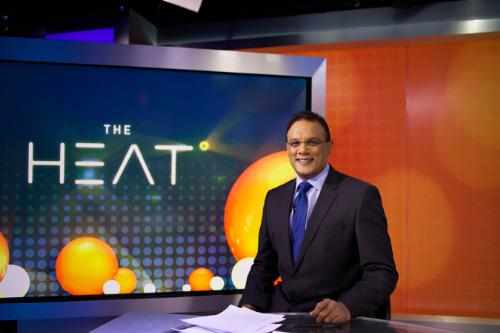 A program on Afghanistan marks the launch of a new daily, global talk program produced by CCTV America, the American arm of China Central Television.
"The Heat," nightly at 9:15 US eastern time debuts Monday, April 7th, on the CCTV News channel.
Hosted by veteran anchor Anand Naidoo, from CCTV America's Washington studios, the new show aims to stir up vigorous debate and discussion of international issues.
On Monday, Former US Ambassador to NATO Kurt Volker and Former US Ambassador to Afghanistan Khalmay Khalizad debate the future of Afghanistan in the wake of the April 5th Afghan elections.
They are joined by Peter Galbraith who was United Nations' Deputy Special Representative for Afghanistan in 2009 when he helped investigate charges of fraud during the Presidential Elections that year.
With live reporting from CCTV News correspondent Sean Callebs in Kabul, The Heat explores the viability of any Afghan government given an increasingly precarious security situation.
On Friday (April 11), The Heat shifts focus to global space cooperation and talks to Canadian Astronaut Chris Hadfield.
Hadfield, a veteran of three space missions, gained fame as "the most social media savvy astronaut ever to leave Earth."
His tweets from the International Space station in 2013 earned him many followers. Before returning to earth, Hadfield, with guitar in orbit, performed from the space station a version of David Bowie's "Space Oddity."
Talking to Anand Naidoo, Hadfield urges the United States and Europe to cooperate more with China on space missions. As he puts it, "we must work together to conquer the complexity and cost of space exploration."
The launch of The Heat is part of an expansion of US prime time programming in April from CCTV America as it ramps up production to three and a half hours daily.
Host Anand Naidoo is a veteran journalist. Starting in South African television, Naidoo has been an anchor on CNN International and Al Jazeera English, before coming to CCTV America in 2013.
The Heat can be seen 9:15 Mondays US eastern time on CCTV News and live streamed at this link. The show is seen across ASIA: China, Singapore, Malaysia, and the Philippines at 9:15 each morning Tuesday through Saturday.
CCTV News in America can be seen on DISH Network Channel 279. It airs in Washington DC on Comcast 273 and digital channel 3 in the DC area.
Viewers in New York can watch Time Warner 134 and FIOS 277. In Los Angeles Time Warner 155 and Charter 562.