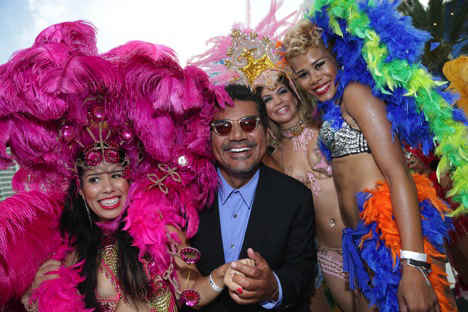 Twentieth Century Fox and its upcoming animated feature film RIO 2 completed a successful Guinness World Records Official Attempt of the largest Samba Party, on March 21, 2014, at the Fontainbleau Miami Beach hotel.
To promote the film, which is a follow-up to Fox's 2011 blockbuster, the Studio hosted over 250 dancers – each of whom sported traditional Brazilian garb – to dance a choreographed Samba. The star studded cast was also in attendance and danced the night away.
Just as the Samba is recognized around the world as a symbol of Brazil and the Brazilian Carnival, RIO and now RIO 2 celebrate that county's music and grandeur – making it come alive with character, color, emotion, and fun.
In theaters everywhere April 11, RIO 2 stars returning cast members Anne Hathaway, Jesse Eisenberg, will.i.am, Jemaine Clement, Tracy Morgan, George Lopez, Leslie Mann, Rodrigo Santoro, and Jamie Foxx – along with Andy Garcia, Rita Moreno, Bruno Mars, and Kristin Chenoweth.
It's a jungle out there for Blu, Jewel and their three kids, after they're hurtled from that magical city to the wilds of the Amazon. As Blu tries to fit in, he goes beak-to-beak with the vengeful Nigel, and meets the most fearsome adversary of all – his father-in-law. RIO 2 also features new Brazilian artists and original music by Janelle Monae and Wondaland.
The film is directed by Carlos Saldanha, and produced by John C. Donkin and Bruce Anderson.