Actress and model Molly Sims unveiled her dramatic hair color makeover – from sun-kissed blonde to vibrant red. Why? To underscore the power of the new Nexxus Color Assure color care collection.
The collection features a Pre-Wash Primer, a pre-treatment that shields hair against color fade before it's even a problem.
Molly Sims is a supermodel-turned actress. As a model, she was featured four years in a row in the Sports Illustrated Swimsuit Issue. She made her transition into acting as portraying Delinda Deline on the NBC series "Las Vegas" and has appeared in feature films including "Yes Man" with Jim Carrey and "Starsky & Hutch." She also hosted MTV's "House of Style" and Lifetime's "Project Accessory."
Best known as an iconic blonde beauty, Sims said she "has always wanted to go red" but worried about keeping the color vibrant. "I am obsessed with this color and I want to keep it looking this way!" says Sims.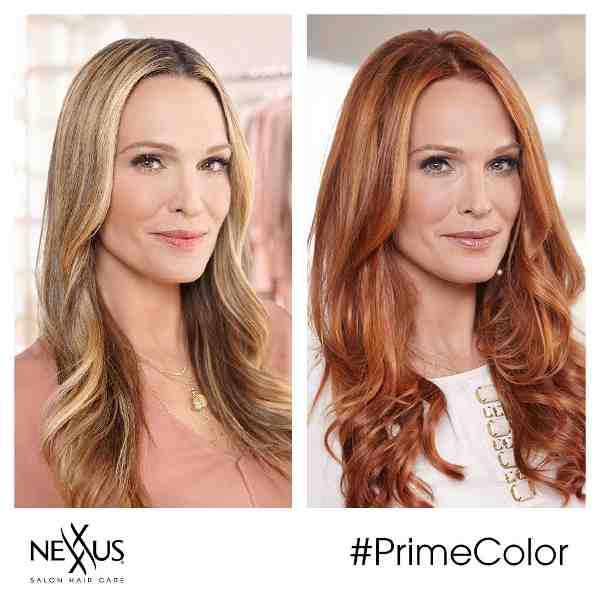 Nexxus is hosting a "Prime Color" contest on Facebook beginning Feb. 19, 2014 through April 1, 2014. Sims will kick off the contest by posting a selfie of her freshly colored hair, and encourage others to share their own just-colored selfies, using the hashtag #primecolor on Instagram and Twitter. Nexxus will be giving away a daily beauty bundle.
For contest details and more information about Color Assure, visit the Nexxus Facebook page at www.Facebook.com/Nexxus.
The Color Assure collection includes: Color Assure Pre-Wash Primer, Color Assure Vibrancy Retention Shampoo, Color Assure Vibrancy Retention Conditioner, and Color Assure Glossing Tonic.
The products are now available at mass retailers, select drugstores and supermarkets. Suggested retail prices are $9.99 – $17.99.
Photo courtesy: Nexxus