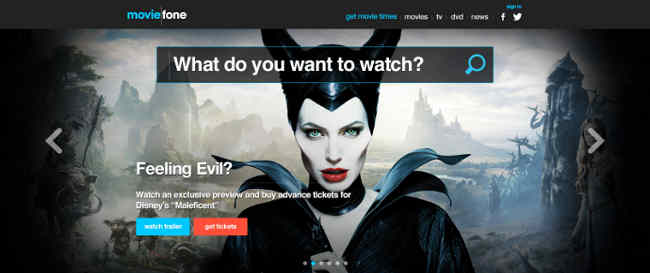 Leading content services company AOL and Whalerock Industries announced the release of an all-new Moviefone today.
The reimagined Moviefone website and apps will help consumers find what they want to watch and where they can watch it. In addition to this search tool, Moviefone will now include television content.
"The line between television and film content blurs more every day," said Lloyd Braun, founder and CEO of Whalerock Industries. "Consumers have a dizzying array of choices in determining what and where to watch their favorite TV shows and movies. We believe the new Moviefone will become an essential tool in helping consumers make that choice."
"We set out to answer a true market need by addressing the universal question: What do I want to watch, and where can I find it? The new Moviefone is a simple and elegant solution to that challenge. And we could not have a better launch partner than Disney's Maleficent — a beloved classic imagined anew, just like Moviefone," said Susan Lyne, CEO of AOL Brand Group.
Moviefone's search will continue to feature movie showtimes and ticketing while also including television content. Through the new Moviefone, consumers will be able to find theaters, channels, and streaming services offering movies and television shows.
Moviefone will allow consumers to easily find a particular episode of a specific season of a television series – whether on air, Netflix, Amazon, iTunes or elsewhere – eliminating the frustrating experience of searching through different television platforms.
In conjunction with the debut of its new design and search functionality, Moviefone announced its search for the next Mr. or Ms. Moviefone.
The Moviefone voice is being passed to a new generation of movie – and TV – lovers via an open casting call to Moviefone lovers. You can TEXT: "STAR" to 265265 for more details, says the company.
Disney is forging a creative collaboration with Moviefone to promote its theatrical release "Maleficent," in theaters May 30.
The collaboration leverages Moviefone's updated capabilities for advanced ticketing – making it easier for fans to locate seats for this cinematic event. The collaboration includes co-branded media placements, custom creative and exclusive content debuting on Moviefone today.
Moviefone – founded in 1989 and acquired by AOL in 1999 – has been a Hollywood film information service since its inception. Late last year, AOL announced its collaboration with Whalerock Industries to reimagine Moviefone.
The AOL-Whalerock Industries relationship is underpinned by the collaboration between AOL's Susan Lyne and Whalerock Industries' Lloyd Braun.
The pair previously partnered at ABC, where they oversaw the development of TV shows, including "Lost," "Desperate Housewives" and "Grey's Anatomy."
Whalerock Industries is a Santa Monica-based media and technology company.