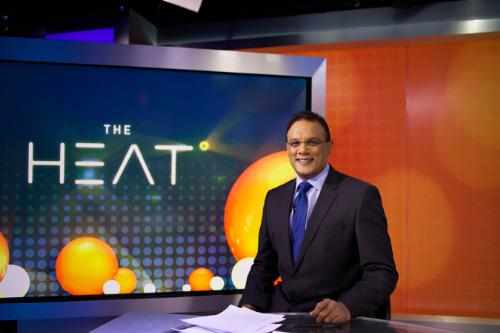 CCTV America, the U.S. production arm of China Central Television, rolls out a new slate of programming this week.
As ships rush to probe signals in the search for Malaysian Air 370, as ballots are counted in Afghanistan, and as the American Defense Secretary arrives for talks in Beijing, CCTV America expands its news programming beginning at 6 p.m. US Eastern time today, April 7th.
A new CCTV News Hour debuts at 7 p.m. U.S. Eastern time. A special 'INSIGHT' report features correspondent Sean Callebs live from Kabul, Afghanistan as results are tallied from Saturday's Presidential elections.
CCTV America also features reporting from aboard Chinese ships in the Indian Ocean searching for MH 370, the airliner missing for nearly one month.
[ Also Visit: REAL VOTER Politics in India ]
In China, CCTV News will provide special coverage of U.S. Defense Secretary Chuck Hagel as he visits Beijing at a time of increased maritime security tensions.
At 8 p.m. Biz Asia America, provides a full hour of in depth global economics reporting. On Friday April 11th, business anchor Phillip Yin chairs a panel of finance ministers from the Philippines, Chile and Colombia at the annual IMF/World Bank meeting.
And at 9 p.m., after a short news update, CCTV America's new talk show, The Heat debates the future of Afghanistan.
[ Also Read: What Exactly Is the Future of TV Broadcasting? ]
The program brings together the Former Interior Minister of Afghanistan, Ali Jalali, Former Afghanistan Ambassador to France and Canada, Omar Samad and Ambassador Peter Galbraith, who served as United Nation's Deputy Special Representative for Afghanistan in 2009.
In the United States CCTV News is seen on DISH Network Channel 279.
It airs in the Washington D.C. area on Comcast 273, Cox 472, RCN 32, Verizon FiOS 458 and digital broadcast channel 30.3.
Viewers in New York can watch on Time Warner 134 and FiOS 277. In Los Angeles, Time Warner 155 and Charter 562.
CCTV America programming in ASIA: China, Singapore, Malaysia, and the Philippines is featured from 6 a.m. to 10 a.m. Tuesday through Saturday. CCTV America is also live streamed.