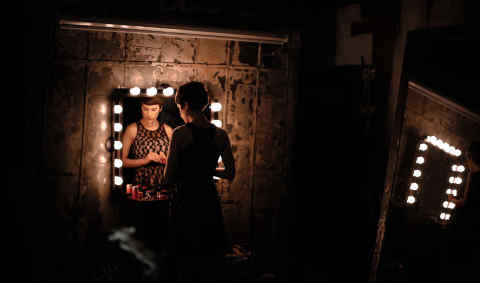 Director Duncan Wolfe helped close this year's Tribeca Film Festival when his new short film "Alethea" was shown Sunday night at an event sponsored by The Lincoln Motor Company, signature sponsor of the festival.
"Alethea," a meditation on the creative process, stars New York actor Elsa Carette on a wondrous journey of self-discovery, one in which the audience is led to believe is her big-screen debut.
The story – an ode to film noir – is a three-minute journey that explores Alethea's aspirations and imagination as she is transported through New York City in a Lincoln MKZ.
[ Also Read: More Stories on Film Festivals ]
"This project appealed to me because we weren't required to know the final destination until we arrived," Wolfe said. "The freedom to film in one expressive act – guided by intuition and a commanding sense of place – was very appealing."
A L E T H E A from Duncan Wolfe on Vimeo.
"Alethea" unfolds before the viewer without dialogue, using stylized camera work and evocative lighting. The film was developed from start to finish in less than 30 days.
"Much like our collaborations with Beck and Aloe Blacc, working with Duncan presents us with a unique opportunity to reach a new audience in an engaging way," said Matt VanDyke, Director, Global Lincoln, which underwrote his film.
[ Also Read: Lincoln Releases Online Film Series, The Journey ]
As a sponsor of the 2014 Tribeca Film Festival and its Tribeca Interactive and Interlude: A Music Film Challenge, Lincoln continues to invest in artists and to provide a platform for contemporary works to be developed.
The Lincoln Motor Company is the luxury automotive brand of Ford Motor Company.