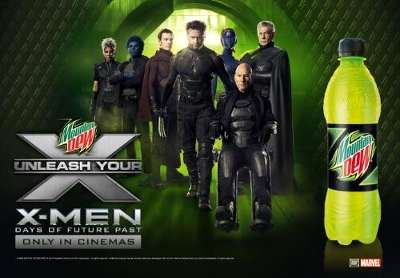 PepsiCo brand Mountain Dew today announced an international-wide partnership with 20th Century Fox's X-MEN: Days of Future Past, signaling the start of a campaign that will see Mountain Dew bring fans around the world closer to the film.
With a star-studded international cast including Hugh Jackman, James McAvoy, Michael Fassbender, Jennifer Lawrence, Halle Berry, Ian McKellan and Patrick Stewart led by Director Bryan Singer, the seventh film in the X-MEN franchise unites stars from across the X-MEN generations for an epic cinematic journey of good versus evil.
[ Also Read: Pepsi Creates Mini Hollywood for the Oscar Night ]
"We are thrilled to welcome Mountain Dew into the X-MEN: Days of Future Past world," said Anna Roca, SVP of International Promotions at 20th Century Fox.
Building on more than a decade of successful entertainment partnerships, Mountain Dew is launching its largest-ever international entertainment promotion, says the company.
A powerful team, the Mountain Dew and X-MEN: Days of Future Past partnership sparks an immersive, fan-focused campaign by Mountain Dew, reaching the "Dew Nation" in nearly 30 countries.
[ Also Read: Mark Canton to Make Superhero Film for Graphic India ]
"Mountain Dew is a global brand fueled by self-expression, confidence and authenticity, qualities that are also anchored in the iconic X-MEN film franchise," says Kurt Frenier, VP, Global Brand Development, Beverages, PepsiCo.
The promotional campaign engages consumers across different touchpoint – from in-store and special commemorative packaging featuring X-MEN: Days of Future Past characters and prizes, to custom cinema programs, a global television commercial and digital and social platforms sharing exclusive behind the scenes content.
The film is scheduled to be released on May 23, 2014.