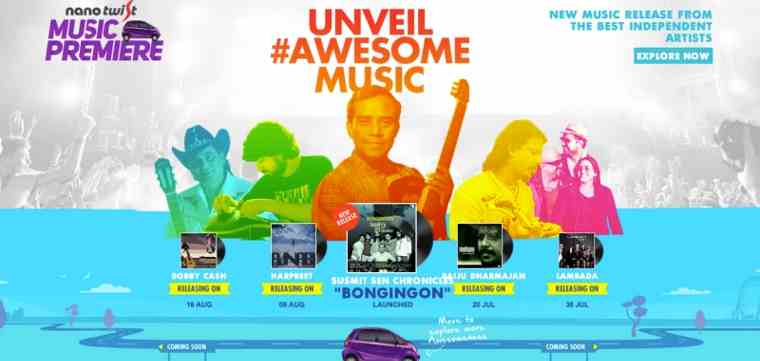 The Tata Nano Twist announced Tuesday the launch of Nano Twist Music Premier in association with Songdew, a music network in India.
This initiative is aimed at celebrating awesomeness in music by premiering albums of some of the leading artists / bands in India.
Through this campaign, music of 10 renowned musicians will be launched globally by Songdew and will be promoted aggressively, says the company.
[ Also Read: Priyanka Chopra: I Can't Make You Love Me ]
The campaign begins by launching the latest single album of Susmit Sen Chronicles, band formed by musician Susmit Sen – founder of India's leading band – Indian Ocean. The first song of Susmit Sen Chronicles is called 'Bongingon' and is a part of band's upcoming album 'Ocean To Ocean'.
"Nano Twist inherits the spirit of awesomeness and encourages true talent. We have associated with various celebrities across genres. And we are pleased to celebrate awesomeness in Music now by premiering music of some of the finest musicians in India through Songdew," said Ms. Delna Avari, head Marketing Communications, Passenger Vehicles, Tata Motors.
[ Also Read: Penn Masala Depicts Evolution of Bollywood Music ]
Under the campaign Nano Twist Music Premier, the artists whose latest music will be premiered include Susmit Sen Chronicles, one of the most popular and versatile fusion band 'Lambada', Guitar Maestro Baiju Dharmajan, country music star Bobby Cash, and others.
"Songdew seeks to address the distinctive needs of artists and bands in India. A unique feature on Songdew is the fact that we are focusing on providing opportunities and promotion to artists through a combination of exclusive online and offline platforms," says Sunil Khanna, founder, Songdew.
Tata Motors is India's leading automobile company. Among other car brands, it sells Tata Nano, which is among the cheapest cars in the world.
Songdew is an online music platform for both established and upcoming artists and bands in India and particularly promotes independent music.