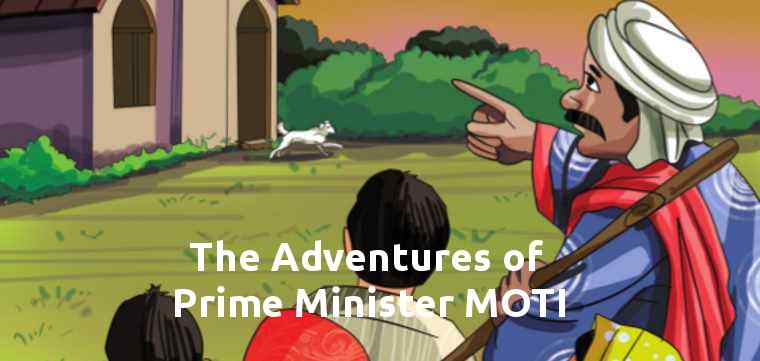 "The Adventures of Prime Minister MOTI" is a politico-fictional reality series that chronicles the adventures of a newly crowned Prime Minister of a country.
It will be brought to you in weekly ready-to-film scripted textisodes.
The characters in this story are fictitious and any resemblance to persons living or dead is purely coincidental.
Here we go.
Season 1 – Tryst With The Doppelgänger
Textisode 1 – Part 3
Copyright © 2014 by Rakesh Raman
In the current textisodes, you are reading the story of Prime Minister Moti's meeting with his Doppelgänger.
---
Related Section:
REAL VOTER – Politics in India
---
Here's Part 3 that continues with the story.
INT. PRIME MINISTER SLEEPING ROOM – NIGHT
White-bearded and obese MOTI, mid-60s, standing in his room when DOPPELGÄNGER enters.
DOPPELGÄNGER
Moti, do you understand what you're supposed to do as the Prime Minister.
MOTI
Yes, I do.
DOPPELGÄNGER
And what's that?
MOTI
As Prime Minister, I have the full freedom to enjoy my life, have picnic in different countries. That's what I'm doing.
DOPPELGÄNGER
And…
MOTI
And… I also play drums for my enjoyment.
DOPPELGÄNGER
And what about the millions of distressed people of this country? Who will think about them?
MOTI
Why are you asking me?
DOPPELGÄNGER
Because you're the Prime Minister.
MOTI
I have just become the Prime Minister. If no other Prime Minister here could think about them in the past many decades, why do you expect me to think about the public?
DOPPELGÄNGER
Because you made zillions of promises to innocent people.
MOTI
You know, those were all false promises that I made to grab this chair.
DOPPELGÄNGER
That means you're also a crook like other politicians in this country.
MOTI
Well… you're right. But crookedness is in the blood of all politicians. All of us are crooks. Why are you surprised?
DOPPELGÄNGER
I'm not surprised. Rather, I'm disappointed.
MOTI
But you're my doppelgänger, my alter ego. If you're disappointed, how can I be happy?
DOPPELGÄNGER
Your happiness is a myth. You've chosen to live in a false, artificial world.
MOTI
Then what should I do?
DOPPELGÄNGER
You've to think and come out of this false world to face the realities of life.
MOTI
Realities? Okay lemme think.
DOPPELGÄNGER
Yes, you must.
To be continued…
---
Also Read:
---
By Rakesh Raman, the managing editor of RMN Company