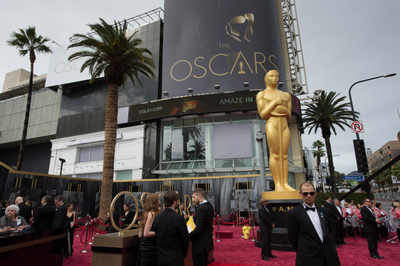 The Academy of Motion Picture Arts and Sciences (Academy) announced Monday that it has launched a new digital documentary-style video series, "Academy Originals."
It examines everything from the creative process, to the moments that changed the course of filmmaking, to the artists who are charting its future.
The series launched Monday with three episodes:
Let's Go to the Movies with Patton Oswalt – Follow along as comedian, actor and movie fanatic Patton Oswalt is offered the opportunity to screen any film from the Academy Film Archive and analyzes it with comedian Karen Kilgariff.
"Not Much to See": How the Blind Enjoy Movies – A documentary look at the impact movies can have on people who can't "see" them.
Creative Spark: Tina Gordon Chism – Screenwriter, director and Academy member Tina Gordon Chism ("Drumline," "Peeples") takes viewers inside her creative process in an exploration of where ideas come from.
[ Also Read: Deconstructing Gravity: Did the Film Deserve the Oscars? ]
Upcoming Academy Originals episodes will feature such Academy members as Kathleen Kennedy, Paul Haggis, Phil Tippett, Mike White and Ava DuVernay, as well as provide in-depth coverage of topics ranging from the making of "Jurassic Park" to a profile of the Inner-City Filmmakers program.
Academy Originals will draw on the expertise of the organization's more than 6,000 members, its vast collection of archival material and its position within film conversation.
[ Also Read: How Oscars Are Losing Their Sheen ]
"Our membership represents the most creative minds and talented storytellers in the world – professionals with incredible expertise to share," said Josh Spector, the Academy's managing director of digital media and marketing. "Academy Originals will serve as a platform to share that perspective with the world and to tell stories nobody else is telling."
New Academy Originals episodes will be available every Monday. The series is produced by the Academy's in-house digital team.
Academy Originals is now available on Academy website and YouTube.
The Academy of Motion Picture Arts and Sciences is the world's preeminent movie-related organization, with a membership of more than 6,000 men and women working in cinema.
Photo courtesy: Academy of Motion Picture Arts and Sciences