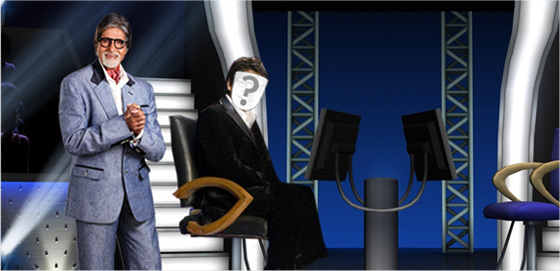 India's leading television network Multi Screen Media (MSM) launched Friday the digital destinations for this season's Kaun Banega Crorepati (KBC, or Who will become a Millionaire) TV show.
These include the new look for the KBC website, the Official KBC App and the KBC Play Along Application. Both, the official App and the Play Along app, are available on iTunes (iOS), Android and Windows.
The KBC Official App has 3 key features – the KBC Official Game, the Globe Quiz and Registrations for Ghar Baithe Jeeto Jackpot (GBJJ).
The KBC Official Game gives users an opportunity to play the favourite game any time, from any location across devices. The user interface is stated to be similar to the experience of playing KBC on the 'Hot Seat'.
[ Also Read: CineShorts: A Competition for Hindi Short Films ]
Users have access to the same lifelines as on TV. Cross-devices common social leaderboard will keep users engaged and keep it competitive. The KBC Official game will also be available on Facebook for users to play.
Users also can win by participating in Ghar Baithe Jeeto Jackpot via the KBC App. Previously, the only way to play was to either send SMS or call in. Now, one can play multiple times via the official app.
To download the app, SMS KBCAPP to 52525, or download the app from the iTunes, Google Play and Windows App Stores.
[ Also Read: Yash Raj Films Postpones the Release of Daawat-E-Ishq ]
TV viewers can play along with the KBC show on-air during its prime-time telecast. This interactive application allows users to participate either via the app or via the website, and respond to show host Bollywood actor Amitabh Bachchan's questions on-air. Users can also challenge and compete with their friends on social media.
To download the KBC Play Along app, SMS PLAY to 52525. Or download the app from the iTunes, Google Play and Windows App Stores.
The "Upload Your Family Photograph" feature allows users to become a part of the KBC family. They can upload their family photographs accompanied by a brief anecdote; some of the best photographs and stories will be shared by Amitabh Bachchan during the show.
Sony Pictures Television (SPT) backs Multi Screen Media Private Limited, which is India's leading television network.
Photo courtesy: Multi-Screen Media / Sony