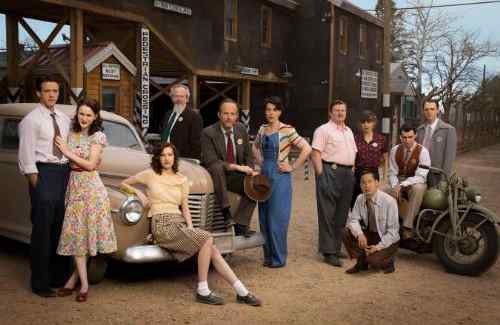 WGN America has announced that its second original scripted series "Manhattan" will premiere on Sunday, July 27, at 10:00 p.m. ET/9:00 p.m. CT. The first image of the ensemble cast from the 13-episode drama was also unveiled.
Created and written by Sam Shaw ("Masters of Sex") and directed by Emmy Award-winning director Thomas Schlamme ("The West Wing"), "Manhattan" enters the world of deception, danger and sacrifices that characterized one of the best-kept secrets of all time: the mission to build the world's first atomic bomb.
Filmed on location in New Mexico and produced by Lionsgate Television, Skydance Television and Tribune Studios, the series stars John Benjamin Hickey ("The Big C," "The Good Wife") as Frank Winter; Olivia Williams ("Rushmore," "The Ghost Writer") as Liza Winter; Daniel Stern ("Home Alone," "Home Alone 2") as Glen Babbit; Ashley Zukerman ("Rush") as Charlie Isaacs; Rachel Brosnahan ("House of Cards") as Abby Isaacs; Katja Herbers ("De Storm") as Helen Prins; Alexia Fast ("Jack Reacher") as Callie Winter; Christopher Denham ("Argo," "Shutter Island") as Jim Meeks; Harry Lloyd ("Game of Thrones") as Paul Crosley; Michael Chernus ("The Big C," "Orange Is The New Black") as Louis "Fritz" Fedowitz; and Eddie Shin ("Men of a Certain Age") as Sid Liao.
"Manhattan" is executive produced by Sam Shaw, Thomas Schlamme, David Ellison, Dana Goldberg, Marcy Ross and Dustin Thomason.
WGN America is the flagship network of Tribune Broadcasting Company (TRBAA:OTC).
Photo courtesy: Justin Stephens / WGN America