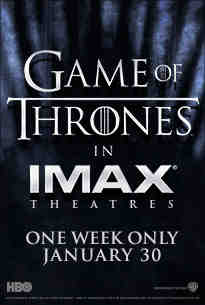 IMAX Corporation and HBO have announced that the first-ever presentation of a television program in IMAX theatres, featuring two episodes from season four of Game of Thrones followed by the worldwide debut of the series' season five sneak-peek preview, will now launch one week later on Thursday, January 29, beginning at 10 p.m. and extend through February 5. The date change allows for an expanded roll-out of screens to upwards of 200 IMAX theatres.
Tickets will officially go on sale starting Friday, January 16. To date, confirmed cities include Atlanta, Boston, Chicago, Dallas, Denver, Houston, Las Vegas, Los Angeles, Miami, Montreal, New York, San Antonio, Seattle, Toronto and Washington, D.C.
Game of Thrones episode nine, "The Watchers on the Wall," takes place entirely at The Wall with the Night's Watch hopelessly outnumbered as they attempt to defend Castle Black from the Wildings and features one the fiercest and most intense battle scenes ever filmed for television.
Episode 10, the season finale entitled "The Children," features Dany coming to grips with the realities of ruling a kingdom, Bran learning the startling reality of his destiny and Tyrion facing the truth of his unfortunate situation.