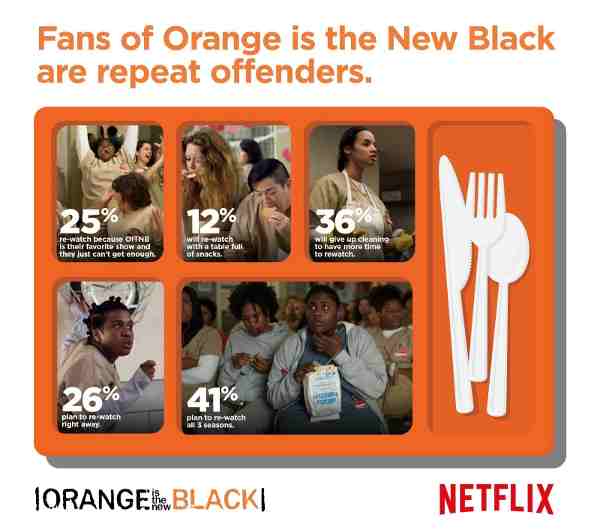 Leading Internet television network Netflix revealed Thursday that Orange is the New Black is one of its most re-watched original series.
Examining viewing in over 190 countries, Netflix found more than half (53%) of Orange viewers have re-watched at least one full season of the series since its debut in 2013. This re-watching behavior peaks each June in anticipation of the new season.
In advance of the Orange is the New Black season 4 debut – arriving worldwide Friday, June 17 – Netflix also surveyed fans around the world to see how they plan to prepare for their return to Litchfield.
[ National Geographic Releases Photos from Killing Reagan ]
Of viewers polled, nearly a quarter (21%) plan to re-watch the previous season while 41% plan to re-watch the entire series – all 36 episodes.
They're eager to serve their time too with 54% planning to re-watch this weekend or sooner, and fans are even willing to give up making their bed (30%), cleaning the house (36%) and cooking (10%) in order to have more time to watch.
[ Netflix to Make Series Based on Sacred Games by Vikram Chandra ]
Overall, according to Netflix, most plan to re-watch without incriminating others – 36% prefer to re-watch solo, 8% with their pets and 12% with a table full of snacks. Those who prefer to have partners in crime will re-watch with their significant other (25%) or friends (14%).
The majority of re-watching lockdowns will take place in the living room (43%) followed by the bedroom (41%) – no one chose the SHU.
[ Narendra Modi Stars in New BJP Thriller Modi Sarkaar ]
The art of re-watching takes both a practical and emotional form. Top reasons for re-watching include looking for possible foreshadowing in previous storylines (25%) and reliving moments with favorite characters (29%). However, for others (25%) it's as simple as Orange is the New Black being their favorite show and they just can't get enough.
For those who only have time for a shorter sentence – like the 23% of respondents who plan to re-watch just a few episodes – Netflix also released the series' most re-watched episodes.
The survey was conducted by Google Consumer Surveys, June 2, 2016 – June 10, 2016 and based on 1,613 responses. The sample was the national adult internet population in the US, Mexico, UK and Canada.
According to Netflix, survey respondents must have confirmed their intent to watch and prepare for season 4 of Orange is the New Black to participate.