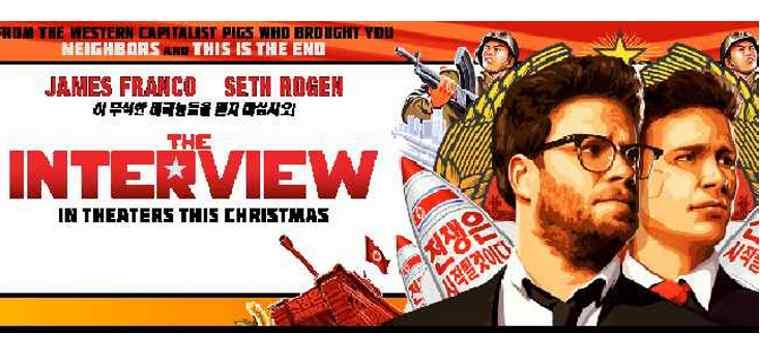 Sony Pictures Entertainment announced Wednesday that its film 'The Interview' will be available online across the United States starting Dec. 24, the Christmas Eve.
Sony has been facing a series of cyber attacks for the past few weeks from "Guardians of Peace" or #GOP, a group of hackers who have hacked Sony's systems and forced it to cancel the release of its movie 'The Interview' which was scheduled to open today, Dec. 25.
North Korea is being blamed for Sony hacking, as the action comedy 'The Interview' starring Seth Rogen and James Franco, shows a CIA-led conspiracy to assassinate North Korean leader Kim Jong-Un. Pyongyang has dismissed such accusations while the identity or the location of the "Guardians of Peace" hackers is still not known.
[ Also Read: Sony Succumbs to Hackers' Demand, Won't Release 'The Interview' ]
[ Also Read: Sony's Response to Hackers: 'The Interview' Will be Released ]
The film will be available to rent in HD on Google Play, YouTube Movies, Microsoft's Xbox Video and a dedicated website at a price of $5.99. The film can also be purchased in HD for $14.99.
"It has always been Sony's intention to have a national platform on which to release this film," said Michael Lynton, chairman and CEO of Sony Entertainment. "With that in mind, we reached out to Google, Microsoft and other partners last Wednesday, December 17th, when it became clear our initial release plans were not possible. We are pleased we can now join with our partners to offer the film nation-wide today.
"We never stopped pursuing as wide a release as possible for The Interview. It was essential for our studio to release this movie, especially given the assault upon our business and our employees by those who wanted to stop free speech. We chose the path of digital distribution first so as to reach as many people as possible on opening day, and we continue to seek other partners and platforms to further expand the release."
[ Are ISIS Terrorists Also Planning Cyber Attacks – after the Sony Hack Case? ]
[ North Korea Threatens U.S. in Sony Hack Case. "Grave Consequences" ]
Fans can watch The Interview on several platforms including:
Google Play: the movie is available to buy or rent at play.google.com, and can be watched in the Play Movies & TV app on Android and iOS phones or tablets, or streamed in the living room via Chromecast, Roku or the Nexus Player.
YouTube: the movie is available at youtube.com/movies and can be watched on the web, in the YouTube app, or on select living room devices like Chromecast, Apple TV, PlayStation and Xbox.
Microsoft's Xbox Video: the movie is available to buy or rent on the Xbox Video app on Xbox One, Xbox 360, Windows 8, Windows Phone 8 and XboxVideo.com.
SeetheInterview.com: In addition, The Interview is available at a dedicated website, which is sponsored by Sony Pictures and powered by Kernel and with payments through Stripe, a secure payment platform.
In addition to Google Play, YouTube, Microsoft and www.seetheinterview.com, The Interview is also being released in more than 300 United States theaters today, Dec. 25th.
Sony Pictures Entertainment (SPE) is a subsidiary of Sony Entertainment Inc., a subsidiary of Tokyo-based Sony Corporation.