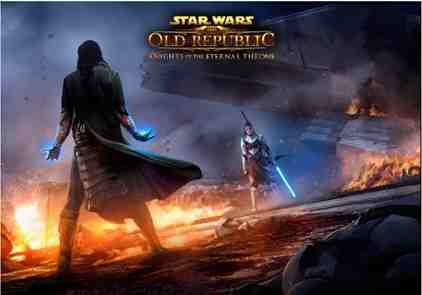 BioWare, an Electronic Arts (EA) studio, and Lucasfilm unveiled Friday the world premiere of the new 'Betrayed' cinematic trailer.
It reveals a first look at the prequel story for the upcoming expansion Star Wars: The Old Republic – Knights of the Eternal Throne.
The new digital expansion will be available for download on December 2, free to all subscribers of Star Wars: The Old Republic, and will offer a starting place for new players to begin their saga.
[ Robojit and the Sand Planet – The Story of the Future Universe ]
Knights of the Eternal Throne puts the player at the center of their own explosive battle to rule the galaxy. As the Outlander, a veteran of the Great Galactic War, players will have the power to make their mark based on their light and dark side choices.
Stakes are high as the player faces the most powerful villains in the galaxy including Emperor Valkorion and Empress Vaylin, as you lead the fight to take control of the Eternal Throne!
[ Request for Help to Open Free School for Poor Children ]
Ruling the galaxy offers expanded power and influence through the new Galactic Command system. Alone or with friends, players can ignite light and dark side battles, face all-new erupting confrontations known as Uprisings, and unlock a few rewards.
In the latest expansion, players will be able to customize their combat encounters with three challenge levels, giving everyone the option to play their way.
[ Also Visit: Wars, Conflicts, and Terrorism Information Center ]
BioWare also announced pre-order rewards for Knights of the Eternal Throne. Players who are subscribed to Star Wars: The Old Republic by October 25 get the infamous mercenary bounty hunter, Shae Vizla, as their companion.
Those subscribed as of November 27 can rise above their enemies in the new Rapid Recon Walker Mount – stay subscribed throughout the entire period to receive 3-days of early access to the expansion.
Star Wars: The Old Republic is a free-to-play BioWare Online RPG set thousands of years before the classic Star Wars movies.
Players team up with friends online to fight in heroic battles between the Republic and Empire, exploring a galaxy of vibrant planets and experiencing visceral Star Wars combat.