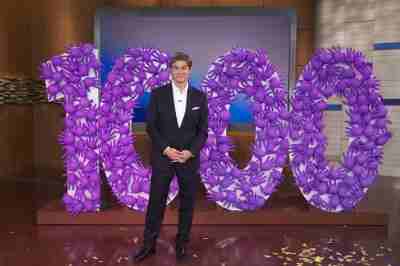 The three-time Emmy award-winning, The Dr. Oz Show celebrates its 1,000th episode on Thursday, May 7. Dr. Mehmet Oz welcomes Hugh Jackman who shares his Dr. Oz show favorites and opens up about his cancer scare.
Then, Dr. Oz is surprised by a mystery guest who he has wanted to appear on the show since it began. Plus, Dr. Oz's most memorable viewers reveal the secrets to reclaiming your health and getting a second chance.
"Over the past 999 shows, we've tried to provide viewers with ways to turn their own health around, and I really love hearing from the people who have," said Dr. Oz. "There are so many folks at home who don't feel trapped in their bodies anymore. I'm so thrilled this show has furthered the conversation that empowers viewers to become a world expert on their own body."
In the 1000th episode, Dr. Oz welcomes Hugh Jackman world famous actor, producer and singer. Hugh not only celebrates Dr. Oz's 1000th episode but also discusses his dark times when going through a cancer scare. After, Hugh reveals his all-time favorite Dr. Oz episodes.
Launched in 2009, The Dr. Oz Show is on television in over 118 countries around the world. Format sales also occurred in several major territories such as China, Russia, and France.