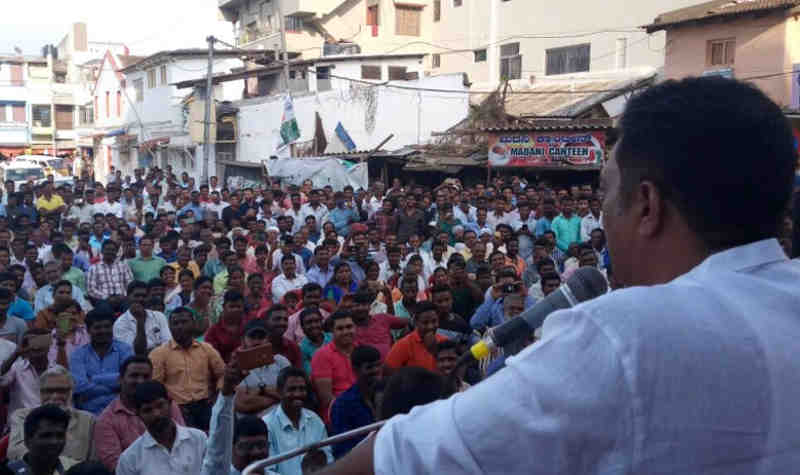 Although Amitabh Bachchan is among the most popular persons in India, many know that he is too self-centered and selfish who only cares about himself and his family.
By Rakesh Raman
A leading Bollywood actor Prakash Raj did not mince his words when he said that his colleague in Hindi cinema Amitabh Bachchan is a coward.
Prakash Raj was talking to a local TV journalist Barkha Dutt on Friday when he said that the veteran actor Bachchan is so scared of the Narendra Modi regime that he has maintained a stony silence even on extremely critical issues such as religion-based rapes in India.
He was particularly referring to the recent Kathua rape case in which an 8-year-old girl was kidnapped, gang-raped, and murdered. Prakash Raj – who is a fierce critic of the Modi government – said he had requested Bachchan to stand up and speak out against such cruel incidents, but his request fell on deaf ears.
Although Bachchan is among the most popular persons in India, many know that he is too self-centered and selfish who only cares about himself and his family. Prakash Raj also indicated that Bachchan offers lame excuses about his old age, etc., while the fact is that he is too scared to speak truth to power.
[ Amitabh Bachchan Asks Twitter to Increase His Number of Followers ]
Prakash Raj is right. In fact, Bachchan can spend hours and days on the aimless promotions of his ordinary films – most of which fail at the box office – but he cannot speak for a few minutes on the issues that are important in the society.
Even at the age of 76, Bachchan is so money-minded that he refuses to speak on controversial – yet critical – societal issues for the fear of losing work in the film industry which is largely influenced by the Modi government.
Other Bollywood actors such as Salman Khan, Akshay Kumar, local actress Priyanka Chopra, and another actress Anushka Sharma are among those who act as toadies to Modi.
[ Behind the Scenes of Salman Khan's Arrest and Release ]
It is also believed that they do not raise their voice against the atrocities being committed in the Modi government because they expect favors from Modi in return to their mischievous silence.
For example, Salman Khan hopes that Modi will get him freed from the criminal cases in which he has been allegedly involved. Similarly, since Bachchan's name has figured in Panama Papers related to financial fraud, he cannot say anything against the government.
Instead, in apparent quid pro quo deals with the Modi government, Bachchan is misleading the innocent citizens of India by promoting the dubious Swachh Bharat campaign in which the government is squandering public money worth billions of dollars.
Perils of Modi Government
It took almost 4 years for Indians to realize that Narendra Modi who became Prime Minister (PM) of India in 2014 has brought nationwide doom and gloom to the country.
It is not only Indians, but world leaders also believe that Modi – with his shady past – may be a threat to the regional stability. Now there are multiple campaigns running simultaneously to get rid of Modi and his party BJP in order to restore normalcy in India.
Major political parties and politicians – including leaders from Modi's BJP – in India have joined forces to dethrone Modi. They believe that Modi is running a secret anti-national project to completely destroy India while under his rule the country is facing the worst socio-economic crisis.
In an ongoing RMN Poll, only 18% people say they are satisfied with the work of Indian Prime Minister (PM) Narendra Modi.
[ Only 18% Like PM Modi's Work. Will He Win Lok Sabha Election 2019? ]
While Modi has completed nearly 4 years of his 5-year term as PM of India, many believe that he has brought the country on the brink of disaster.
During the past four years of Modi's rule in India, the country has gone back by almost 30 years. While the religious persecution against minority communities is rampant, unrestrained inflation, dwindling economy, and political corruption have become pain in the neck for commoners in India.
A new "Freedom in the World 2017" report – released by Freedom House, a Washington-based independent watchdog organization – highlights rampant political and bureaucratic corruption in India. It reveals that corruption has a negative effect on government efficiency and economic performance.
"Though politicians and civil servants at all levels are regularly caught accepting bribes or engaging in other corrupt behavior, a great deal of corruption goes unnoticed and unpunished," the report said in its findings.
Similarly, global anti-corruption organization Transparency International has lowered India's rank from last year's position of 79 to 81 this year. Also, the already deteriorating situation of press freedom in India got further hit as India lost two steps to fall at 138th position in the world.
The global media watchdog Reporters Sans Frontieres (RSF) has released its World Press Freedom Index for 2018 which shows that journalists in India are under increasing threat posed by the ruling BJP regime headed by PM Modi.
Under Modi government, the already deformed democracy in the country has become a plutocracy or perhaps kleptocracy (the rule by thieves) controlled by the corporate bigwigs who hobnob with Modi.
The democracy in its current form is promoting only incompetence, and incompetent people like Modi become the rulers of highly competent and educated people who are being treated like slaves by the government. This is the main reason that India continues to be an underdeveloped country.
While people of India have been suffering for the past seven decades under the rules of all political parties, there is an immediate need for a countrywide movement aimed to usher in a new competence-based political model in the country.
The main objective of the new model is to allow only domain experts to handle different fields of governance, and uncivilized people like Modi should not be allowed to even contest the elections.
In order to achieve this objective, people like Bachchan who have gained everything from the society must now give back to the society. Bachchan and other celebs in the creative fields must stand up and raise their voice against the growing injustice in the country. The sooner the better.
By Rakesh Raman, who is a national award-winning journalist and social activist. He is the founder of a humanitarian organization RMN Foundation which is working in diverse areas to help the disadvantaged and distressed people in the society.
Photo courtesy: Prakash Raj / Twitter