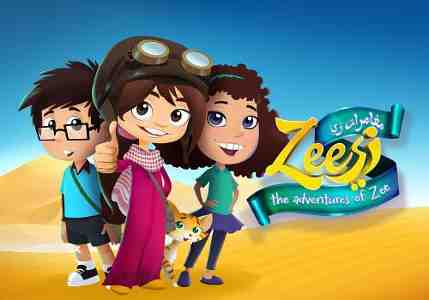 AppyKids is releasing the Arabic cartoon webisode series, The Adventures of Zee – Season 1. The first webisode premieres today on the AppyKids YouTube channel and each subsequent episode will be released on a weekly basis thereafter.
AppyKids is also launching a companion appisode to expand and reinforce the concepts from the webisode series.
Aimed at children aged seven and below The Adventures of Zee – Season 1 comprises seven, 5-minute cartoon episodes featuring Zee and her friends.
---
Related Stories:
Knowledge Stories for Children and Young Adults – Storybooks
RMN KidComm – Art of Communications for Kids
Robojit and the Sand Planet – The Story of the Future Universe
---
The series takes Zee, Farah, Karim, and Caramella from their backyard into outer space, deep under the sea, way back into time, sledding across Antarctica, and all around the world!
A spinning compass opens up a portal and whisks the adventurers to wherever their curiosity takes them! As each new journey comes to an end, Zee's special watch begins to beep, reminding her that it is time to head back home.
"The series promotes the Arabic language and highlights Arab culture while exploring universal themes such as teamwork, cultural tolerance and climate change in fun and engaging ways," says Avantika Hari Agarwal, a filmmaker and writer / director of the series.
Produced by Growl Media, The Adventures of Zee – Season 1 will be available to view for free on YouTube and the app can be downloaded from the Samsung Galaxy App Store, Apple App Store and later on Google Play Store.
Growl Media is a start-up established in April 2013 with the aim to create 'edutainment' content under the brand name 'AppyKids' for children in the Middle East, North Africa and South Asia.
Based in Dubai, U.A.E. with a presence in India and Hong Kong, the company plans to expand from edutainment apps into webisodes and television.