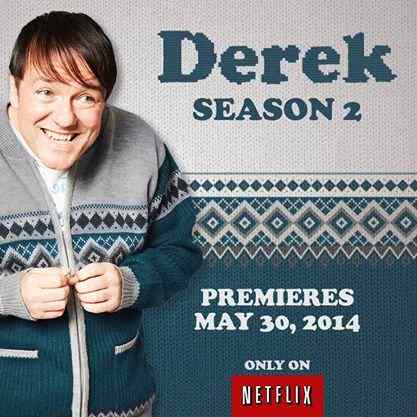 Netflix will premiere the second season of "Derek," the original series starring, written, directed and executive-produced by Emmy and Golden Globe winner Ricky Gervais on Friday, May 30, 2014 at 12:01 AM PT.
"Ricky is a terrific partner and he has created a heartfelt character, in Derek, that Netflix members have fallen in love with," said Ted Sarandos, chief content officer, Netflix.
All six 30-minute episodes in the series will be available at launch in all territories where Netflix is available, except for the UK, where the series will air on Channel 4, the commissioning network.
A comedy-drama about a group of outsiders living on society's margins, "Derek" centers around Derek Noakes (Gervais), a tender, innocent man whose love for his job at a retirement home shines through.
Derek cares deeply for the home's residents, because they are kind and funny and tell him stories of what life used to be like. Working alongside Derek is Dougie (Karl Pilkington), his landlord who is one of life's unlucky individuals; Kev (David Earl), a loveable train wreck; and Hannah (Kerry Godliman), a care worker in the home and Derek's best friend. She is smart, witty and hardworking, but unlucky in love, and, like Derek, always puts other people first.
In the second season, Derek's kindness has truly extended to those around him as he forges new friendships. The retirement home's residents and employees have built a familial community and Derek's positive outlook and good natured spirit allows them to persevere through the difficult times that they sometimes face.
"Derek" is produced by Derek Productions Ltd. for Netflix.
Photo courtesy: Netflix